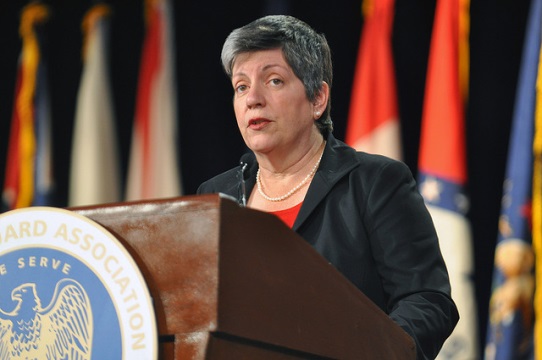 Former Homeland Security secretary Janet Napolitano hasn't even officially begun her job yet as president of the University of California system, but already she has been presented with a list of demands from pro-illegal immigration student activists across the state, most notably calling for Napolitano to make the system a "sanctuary for undocumented students."
The sanctuary status the students' demand letter calls for would prohibit system officials from using resources to assist Immigration and Customs Enforcement with arresting students, nor would administrators be allowed to disclose information regarding an individual's immigration status to the feds, or use the popular E-verify for UC employees.
As a sanctuary, the system would also "promote the employment of undocumented students on campus by providing them with an ID Number that will function as a work permit," states the demand letter, signed by what its authors call a "statewide multicultural progressive coalition."
Other demands called for in the letter include: annual mandatory training for UC police officers, so they learn "the rights of undocumented communities to prevent harassment and criminalization"; the prohibition of riot police on campuses, including S.W.A.T. teams, during student acts of civil disobedience, protests, rallies, and sit ins; force campuses statewide to develop courses on undocumented/immigrant experiences; and hire staff that specializes in undocumented student affairs.
A UC system spokesman told The College Fix officials have no comment on the demand letter at this time.
Ever since Napolitano was approved over the summer as the new president of the University of California's 10-campus, 234,000-student system, pro-illegal immigration student activists have decried the selection, saying she was responsible for record-breaking deportations.
"We are demanding that the UC become a sanctuary university, a place where we are all safe to learn," according to an online petition circulating among pro-illegal immigration student activists across the state.
The demand letter was signed or endorsed by dozens of UC student activist groups across the state, including representatives of MEChA, Black Student Unions, Students for Justice in Palestine, American Indian Student Associations, Queer Alliances, Migrants Rights Awareness, Students Empowering Dreams, Students Informing Now, and many others.
"We are student leaders in the statewide multicultural progressive coalition that represents students who are underrepresented and marginalized within the UC System," the letter states. "Our organizing and advocacy is centered around a collective liberation framework where we address issues ranging from economic justice, combating structural violence, environmental justice, and education reform in order to make real progress for all students and society as a whole."
"As people of color, queer, undocumented, womyn, and allies within the UC system, our work is to ensure that the UC is inclusive to our communities and that the UC system lives up to its mission 'to serve society as a center of higher learning.' "
Jennifer Kabbany is associate editor of The College Fix. 
Click here to Like The College Fix on Facebook  /  Twitter: @CollegeFix
IMAGE: National Guard/Flickr