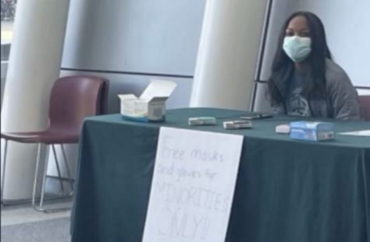 Student at Michigan State says project aimed to 'reverse the privilege'
A student at Michigan State University set up a table in her quad Tuesday and handed out free masks and gloves to students of color but charged white students $10 per item.
After her display prompted some anger, the student explained on Twitter that "the point of the project is to demonstrate how minorities and disabled persons have been negatively impacted by the pandemic versus other groups."
"I wanted to reverse the privilege and show how it feels to be discriminated against based off skin or disability."
The student has since set her Twitter account to private, but The College Fix retained a screenshot.
The project was first reported by The Morning Watch student publication, which noted that the student, MeAnna Durham, had her display "shut down."
'Reverse the Privilege' Table at MSU Gives Free Masks to Minorities, Charges $10 for Whiteshttps://t.co/4V4FrN6yv6

— The Morning Watch (@watch_morning) October 27, 2021
MSU Deputy Spokesperson Dan Olsen confirmed as much in an email to The College Fix on Thursday.
"The university was unaware of this student's class project and the student did not receive the prior approval necessary for setting up a table within our residence halls," Olsen said. "Once we became aware of the table and nature of the student's project, we asked that it be taken down."
MORE: Conservative students host affirmative action bake sales
Under the anti-racism narrative advanced on college campuses today and popularized by scholar Ibram Kendi, discrimination against white people is necessary to balance out discrimination against people of color.
Durham told The Morning Watch that the project was for her "Experimental Design" class, and aimed to discuss civil rights by tackling the question: "How has the pandemic affected minorities and disabled persons and how can we remedy these effects?"
"…[I] chose to create the table as a FAKE tactical way, to show how it feels to give FREE necessities to those who aren't used to being able to obtain them so easily."
Michigan State University made headlines earlier this year when it planned to host a "Student Success" conference that would segregate participants based on their skin color to facilitate "affinity group" conversations.
After campus leaders received backlash, they clarified that the affinity groups would be open to anyone, regardless of skin color.
ALERT: Check out our Campus Cancel Culture Database
IMAGE: Twitter screenshot
Like The College Fix on Facebook / Follow us on Twitter