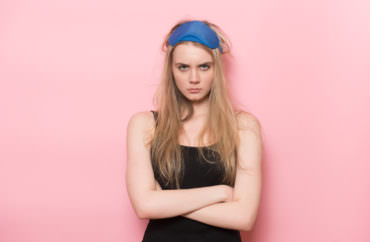 In the latest episode of "Fun-Killing Progressives," a James Madison University theater and media arts/design major says the annual Victoria's Secret Fashion Show "must end" because, well, she said so.
Although the show's ratings have declined over the years, to which Ryann Sheehy attributes to — possibly — a "more socially conscious generation that refuses to give into Victoria's Secret's capitalistic brainwashing," it might be time to ax the parade of supermodels outright because "viewers wallow in self-pity" due to concluding they'll never measure up to the "ideal body type."
It doesn't matter that the company has a brand which sells plus-size lingerie, Sheehy says; the message Victoria's Secret sends to women is "truly horrifying" — that "only women who look like the Angels can shop at their stores."
Worse, still, is the company's view on allowing transgender models to participate in the big event. The V.S. chief marketing officer said (gasp!) "No, I don't think we should […] Because the show is a fantasy."
It's 2018 and there are still people in positions of power who completely exclude the LGBT community from this idea of a picture-perfect "fantasy." At this point, brands shouldn't be continually spreading the idea that there's one prescribed vision that's better than the rest.

Even Mary Katrantzou, a British designer for this year's show, believes in the lies they've spread about female empowerment. Katrantzou said "Everything that Victoria's Secret creates is about a woman feeling confident and empowered — and also having fun with what she is wearing."

What isn't so clear is that the "woman" she's talking about refers only to those who fall within the ideal stereotype of a heterosexual, cis-gender VS Angel. Of course those women feel confident and empowered when they're constantly validated be societal images of beauty and perfection that look just like them.

Halsey was one of the musical guests honored to be a part of this year's show, but when Razek's comments were released, Halsey immediately took to Instagram to express her disappointment in the brand's lack of inclusion and support of the plus-size and trans communities. As someone who's bisexual and a part of the LGBTQ community, Halsey wrote, "We stand in solidarity. And complete and total acceptance is the only 'fantasy' that I support."
Sheehy concludes that since the show "represents an incredibly small population of women in the world," what sense does it make for it continue? (Just don't ask her about the size of the transgender population …)
There's no mention of how many men tune in for the annual shindig, for what it's worth.
Here's something for Sheehy to consider: There's a thing called a television remote control which has many buttons on it. One of the more popular buttons changes the channel. Another turns the set off completely. This is what people usually do when something's on that they do not like.
MORE: Student group's 'Body Love Month' offers 'Eco-Period party,' scale smashing
MORE: Annual 'Speedo Hike' canceled because not inclusive enough of all body sizes
IMAGE: Shutterstock.com
Like The College Fix on Facebook / Follow us on Twitter