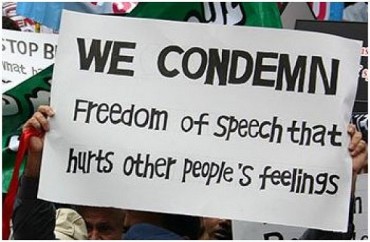 The latest chapter in the progressive annals of Free-Speech-Is-Bad-If-It-Offends-Me features a University of Virginia student miffed that school officials promote "extremist" conservative events as they do with other groups.
In The Cavalier Daily, op-ed columnist Noah Strike says student groups like Future Medical Professionals for Life and Young Americans for Freedom also put forth violent views "under the hood."
Regarding the former, Strike charges that group is violent since it lists protests at abortion clinics as part of its volunteer efforts: "Protests at abortion clinics regularly turn violent — violence at clinics hit a record high in 2018, including thousands of tresspassing [sic] and obstruction incidents."
Even if the FMPFL indeed merely protests with placards and chanting (like the First Amendment permits), such still has the "potential to cause serious physical harm," Strike says. In addition, protests can "traumatize patients and clinic staff."
Worse still, last spring the FMPFL dared to refer to abortion as "genocide" and invoked the name of Adolf Hitler in the process. "Such unapologetic Holocaust comparisons" reveals the FMPFL's "true colors," Strike says, and he blasts the university for promoting the organization in any way.
ALERT: Check out our new Campus Cancel Culture Database!
"Abortion is healthcare and abortion clinics are doctor's offices," Strike states emphatically, which sounds like something straight from Planned Parenthood. And indeed, according to his Twitter profile (below) Strike is an organizer with Planned Parenthood South Atlantic and a board member of the Blue Ridge Abortion Fund, something he doesn't mention in his op-ed.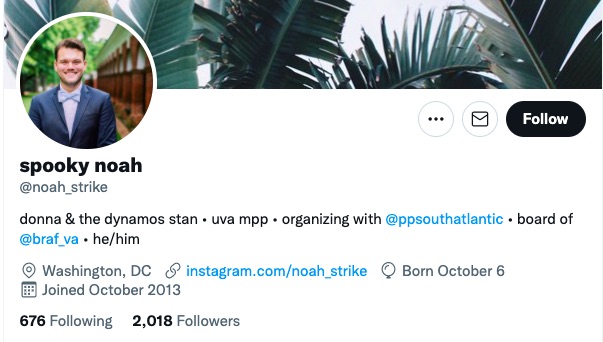 As for the YAF, it once invited former governor George Allen to campus "despite [his] past usage of racial slurs and opposition to recognizing Martin Luther King Jr. Day," and is planning an event next week "defending the legacy of [Thomas] Jefferson."
Lest you think Strike has an issue with free expression, he says UVA, "like any integritous institution of higher education, must maintain an environment conducive to the free exchange of ideas." BUT … "there is a limit."
"Official University social media accounts, especially a leader as public as [UVA President Jim] Ryan, cannot promote or praise the conservative extremism — which often espouses hatred and promotes violence against marginalized communities — of some student organizations.
"These are not risks the University should be taking — no matter the PR payoff that comes with a "false balance" mentality."
MORE: Campus free speech is in a 'death spiral'
IMAGE: Sam Graham / Flickr.com
Like The College Fix on Facebook / Follow us on Twitter