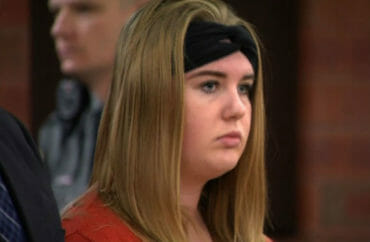 'There's a system for white people and there's a system for black people'
"The internet has a long memory and you will have to do a lot of good to live down these allegations."
That was a state judge's somber advice to Brianna Brochu, who was expelled by the University of Hartford after her Instagram post detailing how she harassed her roommate went viral.
Brochu, who is white, managed to avoid hate-crime charges against black roommate Chennel "Jazzy" Rowe. She was granted her request for "accelerated rehabilitation" under a program that will erase criminal charges from her record if she completes 200 hours of community service and stays out of trouble for two years – a concession supported by Rowe, the Hartford Courant reports.
Perceived slights from Rowe led Brochu to asymmetrically retaliate, rubbing used tampons on her backpack, putting Rowe's toothbrush "where the sun doesn't shine" and putting "moldy clam dip" in her lotions, according to the October Instagram post.
She admitted to licking her roommate's plate and silverware and the tampon claim, but she told police she lied about the rest on Instagram to "appear funny." Brochu said Rowe started it by being "rude" and "posting videos of her sleeping and making fun of her snoring."
Did Brianna Brochu ever get attempted murder charges for trying to kill Chennel "Jazzy" Rowe?
Updates? #DividedStates pic.twitter.com/yBPVWACJF7

— Black Dove Invictus (@Black_Dove) March 6, 2018
MORE: News reports omit race of man in hate crime hoax (he's black)
The state's attorney said there was no evidence Brochu showed racial animus toward Rowe in her retaliatory actions, even in Brochu's social media history, ignoring calls by the NAACP to charge her with a hate crime. According to the Boston Globe, Brochu referred to Rowe as "Jamaican Barbie" and Rowe said she had "throat pain" after Brochu's tampering.
Black culture news site The Root denounced the "special" treatment given to a white person, "as if systematically contaminating another person's living space were no big deal." It quoted from her full Instagram post:
Finally did it yo girl got rid of her roommate!! After 1 1/2 month of spitting in her coconut oil, putting moldy clam dip in her lotions, rubbing used tampons [on] her backpack, putting her toothbrush places where the sun doesn't shine and so much more I can finally say goodbye Jamaican Barbie.
The president of the state NAACP reiterated its hate-crime demand outside court, according to the Courant: "There's a system for white people and there's a system for black people."
anger over RACIST Brianna Brochu Probation who smearing body fluids on her Black roommate's belongings. pic.twitter.com/d7PpkxATEt

— BlackGlobalVillage (@BlackGlobeVilla) March 13, 2018
Brochu lost her scholarship and she'll have to get a mental-health evaluation, all because of petty disagreements with Rowe that started with an argument about the temperature in their room, according to Judge Omar Williams:
He said a day seated in a courtroom would help Brochu get a sense of the problems and challenges people are forced to overcome each day. And many would have gratefully leaped at the opportunity she had to attend college on a scholarship, the judge said.

And the price Brochu pays for her conduct will last long after her court case ends, Williams said. Friends, potential employers and even potential romantic partners will learn of Brochu's conduct with a simple internet search, the judge said. Even her own children might one day learn about their mother's misconduct.
Read the Courant, Globe and Root coverage.
MORE: 17 hate crimes that turned out to be hoaxes in 2017
IMAGE: Associated Press/YouTube
Like The College Fix on Facebook / Follow us on Twitter