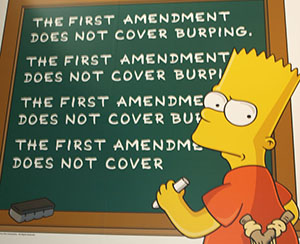 The Knight Foundation's new report on First Amendment attitudes among high school students and teachers – released on Constitution Day this week – highlights that students actually "show a greater overall appreciation for the First Amendment" than adults for the first time.
They cherish the right to say what they want on social media without getting in trouble. Those who get news and information on mobile devices are more supportive of people's right to express "unpopular opinions."
Teachers, by contrast, have much higher comfort with speech – especially that of students – being restricted.
That's the Knight Foundation's spin on its survey, anyway. Read the report, though, and you start worrying how deeply students appreciate the First Amendment when it isn't about their own vanity.
Song Lyrics More Cherished Than Press Freedom
First, there's a troubling gender gap in attitudes toward the First Amendment: Only a bare majority of female students (53 percent) believe "newspapers should be allowed to publish freely without government approval of a story" (68 percent for male students). It's 52 percent female student support for websites publishing without government approval (66 percent males).
The highest support for either gender goes a freedom that's only been firmly recognized since a 1990 jury decision in favor of the rap group 2 Live Crew: musicians' right to "sing songs with lyrics that others might find offensive" (63 percent female students, 73 percent male).
Students also have a highly skewed appreciation for elements of the First Amendment: nearly three times as many (65 percent) call freedom of speech "most important" to them compared to freedom of religion (25 percent). Only 3 percent say freedom of the press is most important.
Their teachers have a more balanced view – nearly the same number say freedom of speech (40 percent) and religion (42 percent) are most important, which might help explain why two in three teachers also disagree that "students should be held harmless" for what they say about school authorities on Facebook.
Permission Required to Practice Journalism – Or Use Facebook
Despite the Knight Foundation's best attempts to make today's high schoolers sound worldly, the survey results get more depressing:
One might think this is simply bad timing – a giant archive of female celebrities' private naked photos was just leaked – but the survey was completed between March and June. And the question specifically asked about "their own" media, not stolen pics.
If three in five students really believe that being in someone else's photo or video gives them the right to veto its use, our schools are even more derelict in educating students on real life than I thought (of course, their teachers are even worse).
Journalism doesn't serve its critical function in society if photos require their subjects' permission to be published. Neither does copyright, which is effectively nullified if ownership bows down to avoiding embarrassment.
Hell, Facebook doesn't work if controlling your own property is conditional. You'd think tech-savvy students would know by now that untagging yourself in another person's photo does not remove the photo. Do we need to give our students remedial Facebook classes as well as Copyright 101?
Certainly everyone following a "pass out page" on Twitter realizes that these students, depicted at their worst, can do little to have photos of their undignified drunkenness removed.
The Freedom to Be Vain Without Consequences
Certainly it's better PR to stroke the egos of the next generation of news consumers by telling them how high-minded and tolerant they are, than to tell them plainly the world doesn't revolve around their fragile self-image.
But First Amendment advocates like Knight do no favors to students, teachers or parents by pretending that these kids' frenzied posting and selfie obsession means they "intuitively" know the First Amendment is crucial to "the American experience."
What these survey results sadly show is that high schoolers think they can exempt themselves from the consequences of their behavior and stop other people from using their own freedoms when it's inconvenient to them.
And given how opposed they are to government surveillance, these students sure seem comfortable with giving the government the benefit of the doubt over what they can read, watch and hear.
It's probably too late to change their teachers' ambivalent attitudes about the First Amendment. But I'd sure be excited to see a Knight-funded curriculum titled "The First Amendment Does Not Revolve Around You."
Greg Piper is an assistant editor at The College Fix. (@GregPiper)
Like The College Fix on Facebook / Follow us on Twitter
IMAGES: William F Yurasko/Flickr, Jeroen Elfferich/Flickr
Like The College Fix on Facebook / Follow us on Twitter