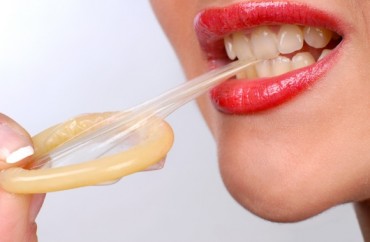 File this under "not terribly surprising"…
A new study by Notre Dame researchers found that giving teens the tools to prevent pregnancy had the exact opposite effect in several states.
As summarized on LifeSiteNews by Prof. Michael New of Ave Maria University, the study measured the effects of condom-distribution programs in 22 school districts across 12 states in the 1990s, including New York City, Los Angeles and San Francisco.
MORE: Harvard Sex Week distributes 13,000 condoms
The "very rigorous" study is a welcome addition to the literature on other school-distributed contraceptives, says New – "there has been almost no academic research on high-school condom-distribution programs":
Overall, the study analyzes teen-fertility data from 396 high-population counties over a span of 19 years. A range of demographic and economic factors are held constant. It finds that if 100 percent of high-school students attended a school with a condom-distribution program, the teen-fertility rate would increase anywhere from 10 to 12 percent. Furthermore, this finding was fairly consistent across school districts with condom-distribution programs.
Though it's possible that teens simply stopped taking more-reliable oral contraceptives or that schools pulled back on "programs encouraging teens to delay sexual activity" – seeing condoms as a silver bullet – the study also found that STDs went up in counties with the condom program, New says, suggesting that they "encouraged sexual risk taking."
MORE: Student condom use is plunging – and STDs spiking
Though some commentators note that the study found that counseling programs also reduced teen fertility, New says:
However, most of the regressions find these reductions fail to offset the increase in teen fertility associated with the condom-distribution program.
Research has repeatedly shown that programs encouraging contraceptive use – through "mandates, subsidies, or distribution" – are "ineffective at best or counterproductive at worst," New says.
Read the study and LifeSiteNews post.
MORE: U. Georgia gives rapper box of condoms for 15-minute performance
Like The College Fix on Facebook / Follow us on Twitter