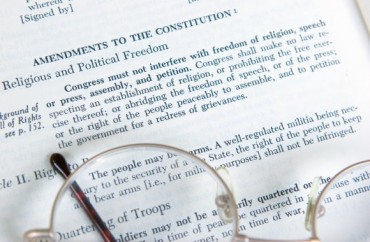 The perception that today's college kids are little more than mewling babies continues, this time with the University of Oregon student government turning down Young Americans for Liberty's request for $950 in funds for its "Liberty Poker Night" event.
The money would have gone towards pizza and rental fees. But … why was the request nixed?
"[T]he event's pro-gun message and prizes 'would make students feel uncomfortable.'"
Um, attention student government: Student fees at UO are mandatory. This means power trippy student leaders cannot play favorites with how monies are disseminated.
The Foundation for Individual Rights in Education (FIRE) wrote to the University of Oregon (UO) before the Associated Students of the University of Oregon's (ASUO's) vote yesterday. FIRE explained that ASUO's refusal to fund a poker night hosted by UO's chapter of Young Americans for Liberty (YAL) expressly because it disagrees with the event's message amounts to constitutionally prohibited viewpoint discrimination. FIRE urged the university administration to step in to protect its students' First Amendment rights.

"ASUO's budget is subsidized by mandatory fees paid by students," said FIRE Senior Program Officer Ari Cohn. "As a result, ASUO must distribute its funds in a viewpoint-neutral manner. ASUO has clearly failed to adhere to this obligation. Since ASUO is an agent of a public university, the University of Oregon administration is legally and morally required to intervene to rectify the First Amendment violations perpetrated by ASUO."

At ASUO's November 11 meeting, ASUO senators and ASUO President Helena Schlegel openly voiced concerns about funding an event with a pro-gun message. ASUO members said the event might make students feel "unsafe," despite repeated assurances from YAL that no firearms would be present on campus at any time.

Despite reminders from both YAL and ASUO Senator Abel Cerros that the group was entitled to a viewpoint-neutral decision on its funding request, ASUO repeatedly questioned YAL members about the group's stance on campus firearms policies. Ultimately, the funding proposal was denied, with several senators expressing that their votes against the proposal were based on discomfort with the event.
What mainly spooked the ASUO were some of the prizes offered at the event, like three firearms "donated by local gun dealers."
But YAL had specifically noted that the prizes would not be given out at the event — they'd be "transferred to the winners after […] off-campus, and in accordance with state and federal law."
Like The College Fix on Facebook / Follow us on Twitter
IMAGE: Shutterstock