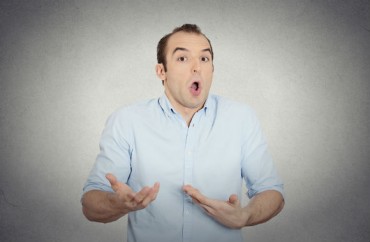 The predictable result of vague policies that 'invite administrative abuse'
One sign of a truly illiberal university is that it not only punishes students for what they say, but what they don't say.
Syracuse University is even worse because it falsely implies that students won't be punished for failing to intervene in a "bias" incident.
We told you last month about a revision to the student code of conduct that holds bystanders accountable for witnessing "acts of hate" and "bias-motivated incidents," with no indication that intention, action or knowledge that something prohibited is happening is relevant.
The Foundation for Individual Rights in Education highlights another reason the policy is so bad: It's not even consistent with another censorship-promoting policy.
The new policy makes punishable "assistance, participation in, promotion of, or perpetuation of harassment," which can include bias and undefined "hate speech." The same four-prong test applies to "conduct" that "threatens the mental health" of anyone. (Good luck defining any of that.)
MORE: Syracuse promises to punish students for witnessing 'acts of hate'
It's so vague that "being in the wrong place at the wrong time" may be punishable, says Laura Beltz, senior program officer for policy reform:
If a student stands silently next to a person who is harassing someone, will they also be held responsible? What about if they simply retweet a message that is purportedly part of a pattern of behavior that threatens the "mental health" of another person?
Syracuse is essentially threatening to enforce what the law rarely does: "nonfeasance," or failure to act "absent some preexisting duty of care," according to Beltz.
And yet its own freakin' bias response policy strongly implies that students will not be punished for simply being present when something that may offend someone is happening.
It gives students "some strategies to address bias" that are contingent on not only recognizing "an act of bias," but feeling "comfortable safely interjecting or intervening" in the situation! "[F]irst and foremost," the policy tells students, "your safety is the priority."
That directly undermines Syracuse's policy revision that provides no safe harbor for reporting bias and no intention or knowledge requirement for being an accessory to bias.
MORE: Suit says Syracuse invented evidence to find fraternity guilty
Beltz is amazed at this contradiction:
So Syracuse's own bias reporting policy acknowledges that it isn't always safe to interject or intervene during an "act of bias," but students may still be held "accountable" if they are bystanders to a "[b]ias-related incident" under the new policy? Good luck figuring that out.
Syracuse's failure to even align its censorship policies is another example of why "yellow light" policies are dangerous, Beltz says, referring to FIRE's category for speech codes that are so vague they "invite administrative abuse."
The number of yellow-light policies has gone up every year since 2009 in FIRE's annual speech-code reports, now accounting for nearly two in three policies, even as the worse "red light" (clear and substantial restrictions) policies have fallen in number.
Not only has vague policy language been struck down in court as unconstitutional, Beltz said, but it is "bound to have a chilling effect" on student speech – how else can you protect yourself from an investigation that itself serves as a punishment?
Here's the best way to avoid this damned-if-you-do, damned-if-you-don't punishment: Don't go to Syracuse, one of the most illiberal and regressive universities in America.
MORE: Judge rules Syracuse can ignore its promises to students
IMAGE: pathdoc/Shutterstock
Like The College Fix on Facebook / Follow us on Twitter