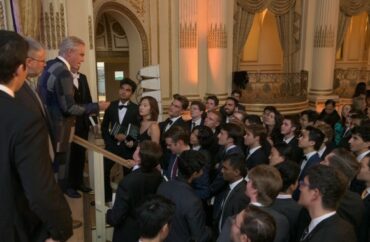 'There [are] great books,' Peterson said. 'Read them. Ignore your professors'
NEW YORK — "How do you have the adventure of your life?" Canadian psychologist and professor emeritus Jordan Peterson said Wednesday evening in a keynote address at New York's Plaza Hotel.
"Tell the truth," Peterson said.
"And then…it's so bloody interesting and engaging and exciting that it justifies the misery of your existence," he stated.
"What I can tell you: there's great books," Peterson said. "Read them. Ignore your professors."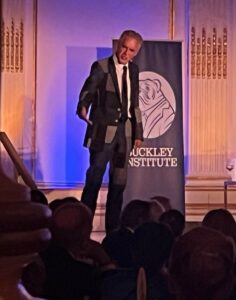 Peterson delivered remarks to approximately 350 people at the seventh annual "Disinvitation Dinner" hosted by the Buckley Institute of Yale University.
The Institute aims to "foster robust and open debate, provide a home for enlightened conservative thought and expose students to often-unvoiced views," according to its website.
Peterson's talk focused on the necessity of free speech and telling the truth regardless of the sacrifices it may entail.
"Free speech is not a right among other rights," Peterson said, to loud applause. "It's the predicate of all rights."
"It's also the predicate of a functioning psyche," he said. "And it's the predicate of a society that can maintain its integrity."
"Societies that forfeit the right and responsibility of free speech doom themselves to stagnation," he said. It is not "some hedonistic whim."
"The purpose of thinking is to let your stupid thoughts die instead of you," according to Peterson.
Even more, "the fear of God is the beginning of wisdom," Peterson said. "You don't sacrifice your relationship with that which aligns you with reality."
Peterson is writing a new book titled, "We Who Wrestle with God," he said. "It's a killer."
"It opens with the [Biblical] story of Jonah…It's the story of everyone," Peterson said. "Jonah is just an ordinary guy going about his business. … He gets a message from God."
"[Jonah's conscience] says, 'you have to atone for your bloody sins,'" Peterson said.
"Now you may think you never get messages from God," Peterson said. "But you do. It's your conscience. And that pesky little thing doesn't necessarily do what you want to do."
In a question and answer session following Peterson's speech, he addressed the corruption of academia.
"You can learn a fair bit by attending a crooked university," Peterson said. "You can learn how to withstand corruption."
Right now The College Fix has a back-to-school campaign to help us continue to support our amazing student journalists. A donation today will be matched thanks to a generous limited-time matching gift opportunity from a friend of The Fix! CLICK HERE for more details — and thank you!
Peterson also spoke about the state of clinical psychology.
"[As a psychologist], if you come to see me and ask me to validate your identity — It's like, go find someone else to talk to," he said.
If you think the purpose of psychology is the validate the identity a person says he or she has, "you're not a therapist," Peterson said. "You're someone who thinks that their job is to convince 13-year-old girls to chop off their breasts."
"It's brutally barbaric," he stated. "It's part of a very, very deep lie, and my profession is deeply complicit in it."
Even more, "the only thing a psychologist has to offer is truth," Peterson said. "The psychological profession has abandoned that, which has happened to a large degree now because of compulsion by law."
Peterson has struggled to speak his mind against opposition by the Canadian government.
An Ontario court required Peterson in August to complete a "remedial" training to avoid disciplinary action following certain of his utterances on social media and podcasts, The College Fix reported at the time.
The court affirmed a College of Psychologists of Ontario committee's finding that some of Peterson's "public language," referring to some tweets and podcast statements, "may be reasonably regarded by members of the profession as disgraceful, dishonourable and/or unprofessional'" and posed "moderate risks of harm to the public."
So the Ontario Court of Appral ruled that @CPOntario can pursue their prosecution

If you think that you have a right to free speech in Canada
You're delusional

I will make every aspect of this public
And we will see what happens when utter transparency is the rule

Bring it…

— Dr Jordan B Peterson (@jordanbpeterson) August 23, 2023
Peterson will document the retraining for the public to review and make up its own mind, he wrote on Twitter.
MORE: Jordan Peterson and Hillsdale College president discuss college indoctrination
PHOTO CREDITS: Bill Morgan, Maggie Kelly
Like The College Fix on Facebook / Follow us on Twitter