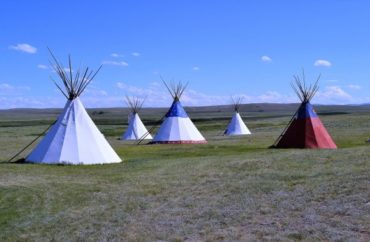 A small, private Methodist Texas college has eliminated an almost 70-year-long tradition due to the fact it might be "misperceived."
The McMurry University Board of Trustees decided in late June to do away with the school's "Tipi Village," a setup at its homecoming festivities to teach about Native American traditions and history.
The formal announcement of the change came Tuesday.
According to KTXS, officials said that the village "could be perceived by some to be dishonoring American Indian tribes rather than the original intention of bringing honor to their culture and lifestyle."
Board of Trustees Chair J. Stephen Sundby said "While we appreciate and cherish the significance of Tipi Village in McMurry University's history, it is imperative that we move forward embracing our new War Hawk mascot and in demonstrating and living by the institutional values consistent with the University's Christian teachings."
A KTXS story from 2017 notes almost 700 children had toured the village that October. Then-Junior Class President Bayli Avery said the goal was to show "a lot of the traditions of the Native Americans that used to live around this area" including  the "different tipis."
"We know this decision will be disappointing for many alumni, students, and community members who have fond memories of Tipi Village, as does my family," said President Sandra S. Harper, PhD. "Yet, I am confident that our current students, with the support of our dedicated alumni, will design a new tradition that will guide the University through its second century. Let's unite to create a thriving future for McMurry University."

Harper said they weren't going to have a Tipi Village this fall because of COVID-19.

She said someone from a Native American tribe e-mailed her earlier this summer which got her thinking about whether the tradition should continue.
The College Fix asked Dr. Harper if the decision regarding the village indeed was based upon a single complaint or concern. She did not respond.
The Board of Trustees' resolution on the Tipi Village concludes thusly:
BE IT THEREFORE RESOLVED that the McMurry University practice of constructing Tipi Village and conducting Tipi tours will no longer take place in any form or at any time or on any spot on the McMurry University campus and will no longer be an institutionally sponsored activity that is condoned by the University, effective immediately, and alternative practices will be pursued to ensure a positive emphasis at McMurry University.
MORE: McMurry U. opens prayer room for Muslim students
IMAGE: Racoon65 / Shutterstock.com
Like The College Fix on Facebook / Follow us on Twitter