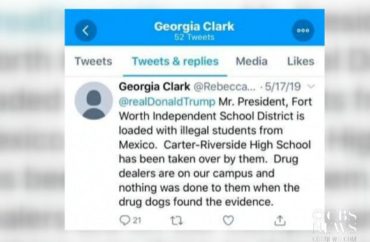 Said school district was 'loaded with illegal immigrants'
A Texas court ruled on Tuesday that the Fort Worth Independent School District legally terminated a teacher who tweeted at President Donald Trump in 2019 and asked him to deport illegal immigrants at the Fort Worth schools.
Judge Catherine Mauzey, of the 250th District Court of Travis County, ruled against former teacher Georgia Clark and Mike Morath, the Texas Commissioner of Education. Morath said Clark should get her job back in a decision on behalf of the Texas Education Agency in November 2019.
"Mr. President, Fort Worth Independent School District is loaded with illegal students from Mexico," Georgia Clark tweeted on May 17, 2019. She told investigators she thought her tweets were private messages to Trump's account, not public.
"Carter Riverside High School has been taken over by them. Drug dealers are on our campus and nothing was done to them," Clark said. The school board officially fired her in September 2019 from her role as an English teacher at Riverside high school.
Clark had sent other tweets of a similar nature at the president, according to CBS News.
"The District is pleased that Judge Catherine A. Mauzy recognized the importance of the Board's ability to make employment decisions in the best interests of its students and school community," officials said in a statement sent to the Fort Worth Star-Telegram.
Education agency said her tweets were protected speech
The Texas Education Agency's hired examiner had recommended in August 2019 that Clark keep her job, according to The Texas Tribune.
"[Clark's] contract does not waive her right to contact, outside of the workday, elected officials concerning matters they have juridiction," Morath said in his 2019 opinion.
He said the school district had not proved a "good cause" to terminate Clark. He said that Clark was entitled to receive backpay, benefits and reinstatement.
MORE: Teacher fired for not giving driver ed lessons to anti-Pledge of Allegiance student
IMAGE: CBS News
Like The College Fix on Facebook / Follow us on Twitter