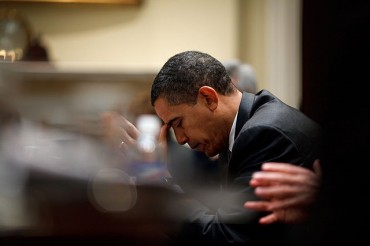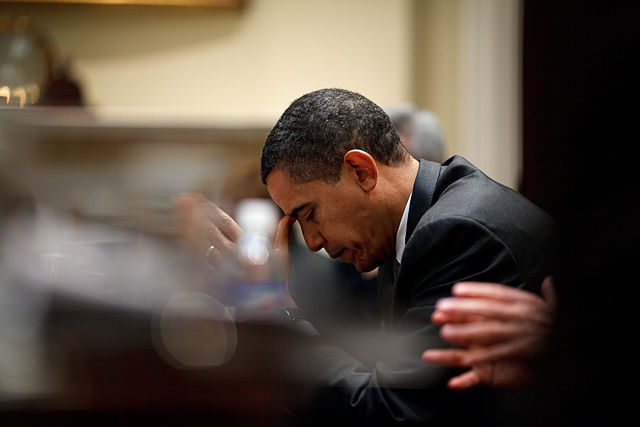 On the campaign trail today, Obama is claiming that the economy is on the upswing because unemployment is the lowest its been since he took office. "This economy has come too far to turn back now," he told a crowd of supporters in Virginia. What he isn't saying is that last month the Labor Force Participation Rate–the percentage of Americans who actually have jobs–reached the worst point of his entire presidency.
Obama's supporters are clinging to the latest jobs report like a political lifeline. The unemployment rate finally dropped below 8 percent, and that's good for the president's troubled campaign. But politics aside, does this actually mean that more people are working?
No, it doesn't.
There are two ways for the unemployment rate to drop. 1.) New jobs. 2.) Unemployed people give up and stop trying to find work.
Guess which force is a bigger factor right now? Here's a clue: the unemployment rate has dropped to 7.8%, despite the fact that the economy only added only 114,000 jobs last month (fewer than were added in each of the previous two months.)
The number of new jobs added each month is falling, yet the unemployment rate is also falling. What gives?
The Washington Post is reporting that, if you counted all the people who have simply given up looking for work since January, the unemployment rate would be 8.4% right now. That's just adding back the folks who've given up looking for work this year.
If you count all the folks who've given up looking for work since Obama took office, the numbers are far worse. In that case the unemployment number would be close to 11%.
The economy isn't looking up so much as people are giving up.
If you're like me, you know a number of people, especially middle-aged folks, who have been looking for a job so long that they have simply lost hope and dropped out of the workforce. That's the real reason the unemployment rate is 7.8%–a number that is still high by historical standards.
The 7.8% figure may be technically true, but held up as evidence of a rapidly improving economy, it's a big lie.
Bottom line: the labor force participation rate is a much more informative number for measuring the state of the economy because it measures what percentage of Americans are actually working, and doesn't ignore those who've simply given up hope of finding a job.
The current labor force participation rate is near historic lows. That may not be the message Obama and his supporters want to hear, but that's reality.
Using the falling unemployment rate to boost his case for re-election is understandable, even if it isn't entirely genuine. But Obama must be careful not to tout the positive numbers too loudly, lest he appear insensitive to the plight of millions of voters who are still struggling to make ends meet.
When Americans give up looking for work, it may make the unemployment rate look better; but it won't turn this economy around. It'll take jobs to do that.
Labor Force Participation Rate (Source: Bureau of Labor Statistics)

| Year | Jan | Feb | Mar | Apr | May | Jun | Jul | Aug | Sep | Oct | Nov | Dec | Annual |
| --- | --- | --- | --- | --- | --- | --- | --- | --- | --- | --- | --- | --- | --- |
| 2009 | 65.7 | 65.8 | 65.6 | 65.6 | 65.7 | 65.7 | 65.5 | 65.4 | 65.1 | 65.0 | 65.0 | 64.6 | |
| 2010 | 64.8 | 64.9 | 64.9 | 65.1 | 64.9 | 64.6 | 64.6 | 64.7 | 64.6 | 64.4 | 64.5 | 64.3 | |
| 2011 | 64.2 | 64.2 | 64.2 | 64.2 | 64.2 | 64.1 | 64.0 | 64.1 | 64.1 | 64.1 | 64.0 | 64.0 | |
| 2012 | 63.7 | 63.9 | 63.8 | 63.6 | 63.8 | 63.8 | 63.7 | 63.5 | 63.6 | | | | |
Like The College Fix on Facebook / Follow us on Twitter