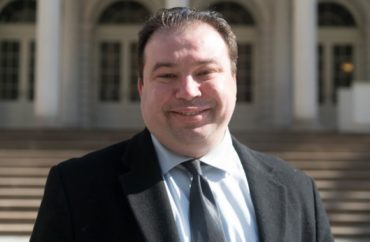 Effective at criminal justice reform because he doesn't demonize law enforcement
Jeffrey Deskovic spent 15 years in prison for a rape and murder he didn't commit. He went behind bars as a 17-year-old.
In a decision that shocks the conscience, jurors ignored DNA evidence that conclusively proved Deskovic had not raped the victim, his classmate Angela Correa. Prosecutors first fingered him because he "acted excessively upset" at her funeral and offered to help them solve her murder.
In a move that won't surprise anyone who's spent time around the criminal justice system, detectives interrogated Deskovic for hours without a lawyer, family member or food, then falsely told him he'd failed a polygraph test. He tried to commit suicide twice before trial.
Prison could have destroyed him, but instead it steeled his resolve to prove his innocence and help others who were victims of criminal justice abuses.
Columnist Michelle Malkin tells his incredible story in National Review, which culminated with his graduation from Pace University School of Law last month.
First, the consequences of the detectives' lawless actions and prosecutors' willful blindness: The real killer and rapist killed again while Deskovic was in prison. It was only after the Innocence Project took up Deskovic's case – after "multiple rejections," Malkin says – that the newly incarcerated Stephen Cunningham was identified by DNA as Correa's killer.
What's truly inspiring, though, is how Deskovic didn't stop after he won a multimillion-dollar judgment against several New York government entities and received a judicial determination of "actual innocence" in 2006.
MORE: Michigan State ruined an innocent student's life. He's making a comeback.
He had already earned an associate's degree behind bars, but went on to earn a bachelor's, then a master's at John Jay College of Criminal Law.
Incredibly, he kept up his frenetic pace while in law school: traveling across the world to give presentations on wrongful convictions, giving dozens of interviews, playing "an instrumental role in prosecutorial-misconduct reform in New York State," teaching criminal justice classes to judges and policies academies, and setting up his own foundation, "which has helped exonerate seven people," says Malkin, a financial contributor to his work. (His latest success: retrial in a murder case that featured the same official who administrated Deskovic's fake polygraph exam.)
I've known several law students in my life, and the most talented couldn't hope to keep up his extracurricular schedule.
Malkin identifies Deskovic's willingness to engage with law enforcement, rather than justifiably demonize them, as the source of his effectiveness:
Lieutenant Michael Devine of the Bergen County Law and Public Safety Institute was so impressed with Deskovic's presentations to corrections recruits that he successfully requested that the exoneree become a certified instructor for the New Jersey Police Training Commission.

Dr. Kevin J. Barrett, a 32-year veteran of the Englewood, N.J., Police Department and chairman of the criminal-justice department at Rockland Community College, says his students were "mesmerized" by Deskovic's presentation and "will carry the lessons they learned from Mr. Deskovic for the next 25 years of their careers. He has a much-needed story to tell."
Deskovic takes the bar exam this summer. At a time when the public is increasingly inclined to put emotions over evidence, the legal community couldn't ask for a better representative of its mission.
MORE: Michigan State sued for expelling NFL player after exonerating him
IMAGE: Sameer Abdel-Khalek
Like The College Fix on Facebook / Follow us on Twitter