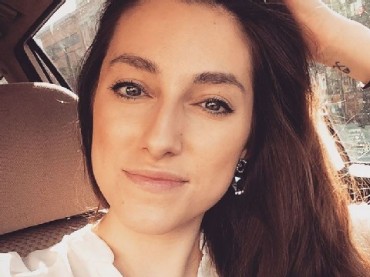 Rita Makrusina is fighting for the country that gave so much to her with a 'Wake Up' petition and rally in D.C. on March 31
Russian-born Rita Makrusina immigrated to America with her parents at age 11.
Her mother and father – who lived first-hand through their country's stifling communism under Gorbachev and the Cold War – wanted something better for their daughter, and for themselves.
When the Makrusina family finally arrived in San Francisco in 2001 after waiting for what seemed an eternity to enter the U.S. legally with a green card, "it was a dream come true," Rita tells The College Fix. 

The threesome had a few thousand dollars to their name, some suitcases stuffed with belongings, and a belief in the promise that hard work in America opens doors wide with possibility. They moved into a small hotel room and got to work. Her father opened an import-export business, and her mother parlayed her time as a gymnast in Russia into opening a gymnastics studio.
"We did it 100 percent legally," Rita says. "To us at the time, $2,000 was like $2 million dollars [to pay for the citizenship process]. We did not have it at all. We borrowed it from our friend."
That friend, Sasha Alexander, gave the Makrusinas the money, and his only request in return was that his friends one day hosted him in their American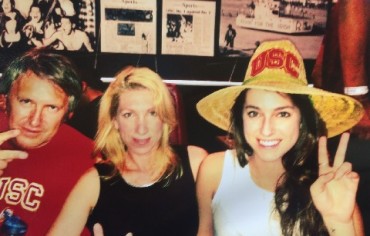 house with a white picket fence. "A year before he died, may he rest in peace, he came to our house," Rita says, "and we barbecued together."
As for Rita's journey, her parents spent spare earnings in Latvia, Russia, on an English tutor, so when the preteen enrolled in school in the U.S., she tackled her studies. Rita worked so hard she earned a full-ride to the University of Southern California, where she majored in finance and fine arts.
There, she worked as a waitress and in the school's finance department to help make ends meet while enjoying her time in a sorority and the College Republicans and maintaining the grades needed to keep her scholarship. Her parents even helped out, moving from their house into an apartment so they could send extra money to their daughter.
Rita graduated last May, and today – at age 21 – she works at her father's import-export business and coaches a high school lacrosse team. Her mother's gymnastics studio remains popular as well.
"I am very grateful to this country to get a higher education," Rita says. "I believe I am the perfect example of the American dream."
Yet here's where the story takes a turn. Rita says the America she fell in love with is not the America she sees under the Obama administration. The country she is living in today resembles too closely the country she and her parents fled. Her parents have been negatively affected by Obamacare, too.
"He is implementing programs that scream 'big government, big government, let me help the masses, everybody should have this, everybody should do this, everybody needs to be this,'" Rita says. "Excuse me. This is not a dictatorship, this is a democracy."
"He pushes the limits on freedom and individuality, what we thrive on here," she adds. "Americans need to put their game face on. We need reform."
Rita doesn't just talk the talk. She has launched a petition calling on Americans to "wake up." It reads:
Citizens of the United States,

In December of 2014, our National Debt passed the $18 trillion dollar mark. Class Warfare has been ignited between American citizens across the country. ISIS is slaughtering men, women and children without loosing any sleep over it. There is poverty and addiction on the streets. The President has not taken initiative to create positive policy.

America once worked, and it will work again. I believe if we come together and remind Barack Obama that family, safety, faith, health, and service are very important to the people of the United States of America, we will succeed.

My name is Rita Makrusina and I believe we, the people, have the duty to support a strong GOP candidate to lead the Republican party to victory in the 2016 Election. Lets help true American values thrive in our lifetime, in our children's lifetime and their grandchildren's. The next President has to be the one to better our lives, and make the best country in the World work again.

Thank you for reading this petition. I hope you will come together as friends and give the Obama Administration a hard wake-up call before they sink the American dream.
Rita says she proudly stands behind the petition, which has garnered five signatures so far. But she says she does not want to see her adopted country destroyed by socialism. People must "wake up," she says.
"I don't want to wake up every day disappointed," she says. "I don't want to turn on the television … just to be disgusted."
In addition to her petition, she will lead a "peaceful demonstration" in front of the White House on March 31. So far she is the only one signed up to go to her own "Wake Up" event. She's not fazed.
"I am going to Washington D.C. and hopefully I am going to get some supporters to come out," Rita says. "We are just going to walk. I don't like signs, yelling, I just want to talk about … where America began … where democracy is supposed to be alive, and where the constitution is alive."
Like The College Fix on Facebook / Follow us on Twitter