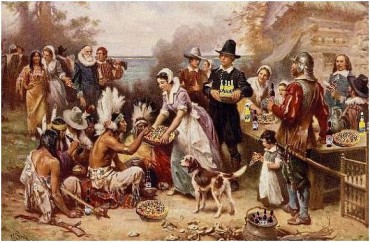 As surely as Christmas music is about to assault our senses 24-7, the coming of Thanksgiving this Thursday means it's time for progressive college students to lecture us about what a travesty the holiday is.
Though today one would be hard-pressed to find a social studies/history teacher worth his salt who gleefully glosses over the origins of the holiday with fables of happy-go-lucky Pilgrims enjoying a peaceful feast in mutual harmony with Natives, progressives apparently believe this to be the case. In lieu of an actual balanced approach to history, these progressives we must go from one extreme to the other: from the overly sanitized accounts popular in the past … to those of perpetual condemnation.
For example, The Dartmouth's Avery Saklad writes that in the "tasteless celebration of the white man's massacre of indigenous peoples, Americans gorge themselves annually on factory-farmed turkey, GMO-riddled green bean casserole and squash, artificially-sweetened cranberry sauce and all other sorts of American delicacies."
Saklad continues, listing the usual grievances against Europeans' invasion of the Natives' North America, and claims (as noted) Americans are only fed a diet of the positives associated with the holiday. Like a true modern leftist, he also wants you to violate one of the universal rules of any holiday: discussing politics with family.
[B]ring up the reality of oppression in America. Ruminate over the lasting legacies of the colonists, the power dynamics and patterns of exploitation and corrupt societal values that persist in today's world despite our educations.
I can just imagine:
"Hey, Avery — more gravy?"
"Seriously? In the middle of my query into the intersectionality of Pilgrim capitalistic oppression and Native cultural taboos?"
A real life 'o the party, that Avery.
Elsewhere at The Daily Campus, Rebecca Maher discusses an event from last Tuesday in which Native students at the University of Connecticut talked about how they view Thanksgiving.
"I never knew that that whole Thanksgiving feast was like a, well, like the pilgrims' celebration of the Native Americans' massacre at Mystic," one student said. "That's a really sick and twisted thing."
This was the story told by Moonanum James, an organizer for the so-called National Day of Mourning, created by his father in 1970. A video shown at the event featured two Natives stating Thanksgiving "means rape, genocide and loss of land to them."
Now, perspective: A mere eleven years ago (amazingly!), the history film Bury My Heart at Wounded Knee featured the following scene between Chief Sitting Bull (August Schellenberg) and Colonel Nelson Miles (Shaun Johnston):
I say "amazingly" because one, the film was produced for HBO (known for progressive programming) and two, contemporary teaching of history often is done in the manner of Mr. Saklad's presentation.
The point here is not to absolve the United States or Europeans in general of historical crimes associated with their advance into North (and South) America. But just as the sanitized stories of "cowboys and Indians" in decades past were wrong, so too is portraying Native American societies as peacefully idyllic utopias.
Natives and Europeans are human beings, after all, and the only real difference between the two peoples is that the latter had a distinct technological advantage … as well as one not in their control (diseases).
Contrary to Saklad's assertion, the culture which he — and progressives in general — depict as "oppressive," "exploitive," and the like has allowed for the deep introspection and for reparative redresses about which they complain ceaselessly.
Happy Thanksgiving.
MORE: Here's the best way to argue at Thanksgiving, prof says
MORE: 'Thanksgiving Toolkit' helps students cope with political disputes
IMAGE: Mike Licht/Flickr.com
Like The College Fix on Facebook / Follow us on Twitter