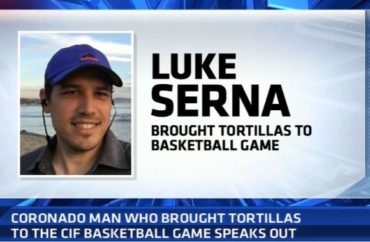 ANALYSIS: Race-baiters use this incident to advance their narrative, no matter the truth
Over the last week there's been wall-to-wall coverage in San Diego County and across the nation of an incident that took place after the predominantly white Coronado High School won a championship basketball game against the predominantly Latino Orange Glen High School.
After the game, some tortillas were tossed at or toward the losing team's crowd amid a raucous on-court scene as some words were allegedly exchanged between coaches. Immediately the tortilla throwing went viral as some sort of racially charged, bigoted hate-crime.
It wasn't long before the Coronado school board fired the head coach of its winning basketball team, community activists demanded Coronado forfeit the game, and the California Interscholastic Federation launched an official investigation. Local lawmakers also seized on the opportunity to bemoan racism and demand more be done to fight against discrimination.
Lost amid the grandstanding and handwringing, however, is the fact that the Coronado man who brought the tortillas has told anyone who will listen that he did so as a matter of tradition and with not one iota of racial intent.
In fact, the man who brought the tortillas to the game, Luke Serna, is "half-Mexican and a registered Democrat," the San Diego Union-Tribune reported.
"I realize the tortilla throwing has been perceived as racially insensitive. I do not condone racially insensitive behavior, and that was not my intent. I apologize to all who were hurt by this and hope it can be a teaching moment for us all to become more conscious," Serna said on Twitter.
And he told conservative radio host and former San Diego city councilman Carl DeMaio: "Hi Carl, sorry for the confusion, but I was not trying to promote Critical Race Theory by bringing the tortillas to the game. I was strictly wanting to help the team celebrate if they won."
Serna has repeatedly stated to various news outlets that the tortilla-throwing tradition stretches to basketball and soccer games at his alma mater and many others.
"Serna graduated from Coronado High School in 1999, and then from UCSB, where tortilla tosses were a celebratory thing, like they are at many other major universities across the country. Students use tortilla because they are cheap, easy to throw like frisbees, and can easily be snuck into the stadiums and arenas," KUSI reports, adding:
Serna supplied the Coronado School Board a statement of fact before their Tuesday meeting, assuming they would read it as part of public comment and settle the whole controversy right then and there. But, they didn't acknowledge or publicly release any of the information he provided to them.

Once their Tuesday meeting concluded and his information was not read to the public, Serna first took to Twitter to admit he brought the tortillas as a "strictly wanting to help the team celebrate if they won." In another tweet, Serna said his statement of fact "should have been read by the school board yesterday, but they seemed to feel the need to withhold it."
Serna told KUSI's Hunter Sowards that his determination, "was that they wanted to censor his statement from being heard, in order to cover themselves from accountability for creation of this issue, into a racial issue, rather than getting to the truth of what really happened."
Thankfully cooler heads may prevail.
KUSI also reported that "Coronado Schools Superintendent Karl Mueller said that after reviewing audio and video accounts of tortillas flung at a largely Latino team when it lost a championship basketball game last Saturday at Coronado High School, no evidence has turned up requiring the school to forfeit the game."
He also said that upon closer inspection both sides have room for improvement.
"Numerous statements reference the actions of people representing both schools as contributing somewhat of a 'powder keg' atmosphere," Mueller wrote. "There are allegations of inappropriate language from CHS and (Orange Glen High School) fans, coaches and players which vary in who 'started it' or was 'worse' in these interactions."
But leave it to the race-baiters to use this incident to advance their narrative, no matter the truth.
MORE: Princeton U. to host vigil over 'noose' nobody knows anything about
IMAGE: KUSI screenshot
Like The College Fix on Facebook / Follow us on Twitter