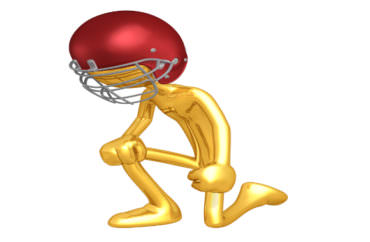 Remember the University of Michigan's Dana Greene? He's the guy who took a knee on September 26 for almost a full 24 hours to protest "all inequality" in the United States.
Well, now Greene wants to up the protest ante: He is calling upon all students and staff to either kneel or sit during the school's football game this evening against rival Michigan State.
"I am no longer looking to administration to take a stand against these and the countless other acts of racists and xenophobic actions that have taken place on OUR campus and across the country," Greene wrote in a letter which circulated this week. "I am turning to you, to students, to staff, to faculty. I ask you, who are we now? … Who are we if we allow our African American, Latinx, Muslim, LGBTQ communities, etc. to feel alone as they solely constantly combat these acts?"
"Countless"? Right.
In an interview with The Michigan Daily, Greene laments the "blatant racism" UMich freshmen have to face, and lays blame squarely on the shoulders of President Trump, noting that "unacceptable" racism has now become acceptable: "The President of United States basically sanctioned this behavior. He put the rubber stamp on this behavior."
But Greene doesn't seem to understand what he can and cannot do — at least legally — when it comes to his protests and activism.
When people are saying, "Oh, what you are doing is disrespecting the flag, etc. etc." — if I wanted to disrespect the flag, if I wanted to disrespect the country, I would have climbed up the flagpole and pulled the flag down and went into the center of the Diag and burned the flag. But then instead, I took a knee. And from my own personal experience, the only time I have ever seen someone take a knee is to worship the god of their choice or to wish well-being someone when they are hurt, whether it is on the football field or otherwise. I have never seen the sign of someone taking a knee as disrespectful. …

But I am not doing this [kneeling protest] because I have all of the money in the world and nothing to lose. I have everything to lose. For all I know, President Schlissel could have called me up and said, "Oh, you're disrespecting the flag, you're kicked out of the University."

But to me, that didn't matter. To me, what mattered more was doing something for the students on this campus and across this nation, all people, who felt like this country does not care for them and this campus does not care for them. And to really symbolize the pain that people are feeling right now. There is a lot of pain and I don't think people recognize it.
First, if Greene had climbed that flagpole and burned the flag, he'd have been arrested. After all, although flag-burning is protected political speech, the property (flag, flagpole) has to be your own.
Second, President Schlissel could not have expelled Greene from campus for his take-a-knee protest just because he might have thought it disrespectful to the flag; U. Michigan is a public institution, after all.
Challenging Greene's calls to protest at tonight's game is student Robert Burgess, who sent out an email calling for everyone to stand for the National Anthem:
"By sitting during the national anthem, that only gives reason to question the authenticity of the university as a whole. YOU represent the university. YOU are gifted people being here, you should not be influenced by a fad the NFL brought to light."
"Corruption and injustice are very real," Burgess acknowledges, but UMich students are "liberated far more than [they] can perceive," he says.
"Please stand with pride. Maybe make a sign that says I'm standing for those that fought, even if you believe they were manipulated in doing so… But, please stand."
Read the full Greene interview and article on Burgess.
MORE: U. Michigan student 'takes a knee' for entire day to protest 'all inequality'
MORE: College professors to 'take a knee' in support of nationwide protests
IMAGE: Scott Maxwell/Shutterstock
Like The College Fix on Facebook / Follow us on Twitter