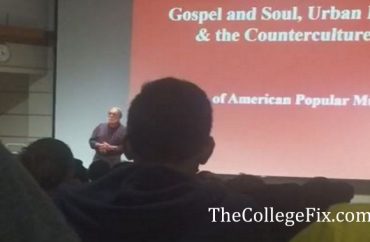 'I am scared about your future' 
A University of Michigan scholar went on a self-described "rant" in class on Monday telling students that if Republican presidential candidate Donald Trump gets elected they will lose their civil liberties and that Roe v. Wade will be overturned, among other dire warnings about a Trump presidency predicted by the teacher, according to a video of the comments obtained by The College Fix.
Lecturer Bruce Conforth began his "History of American Popular Music" course on Monday — the same day President Barack Obama stumped on campus for Hillary Clinton — by saying democracy has gotten to the point where it seems like it's often a choice between the lesser of two evils.
But this election is different, he told students a day before they were to cast their ballots.
"In this case, however, I think the lesser of two evils is such a profound difference that, literally, you guys tomorrow have a chance to shape the rest of your lives in ways that could be irrefutably good or irrefutably bad," Conforth told the class.
"Because, I'm probably not supposed to do this, but if Donald Trump wins tomorrow — How many women in here want to keep their right to control their reproductive possibilities? How many people in here want to keep affirmative action? How many people in here want to keep basically any of your civil liberties? How many of you want a larger minimum wage? How many of you want equal pay for equal work? How many people want a reduction in your school loans? All of these things and more you can kiss goodbye if Donald Trump is elected tomorrow," Conforth said. "Donald Trump … will be able to force through people to the Supreme Court and the Supreme Court will reverse Roe v. Wade based on who Trump gets in there. The Supreme Court will roll back all kinds [of civil liberties]."
The scholar went on to espouse the benefits of the Affordable Care Act, and told students they could lose health benefits under a Trump presidency.
"America is trying to move forward with the continuation of some of the things that President Obama started. Universal health care. When you think about what America was like before President Obama took office … are there more people on health insurance now than ever before? Yes. Can you stay on your parent's health insurance until you're 25? Yes. Can you be denied access to health insurance because of a preexisting condition? No. All of these things will change," Conforth told the students. "All of these things will change. And I am telling you, I'm scared. I have never been scared at a presidential election before. But I am scared about your future tomorrow."
"So please, get out, vote early, vote often," he continued. "Bring your friends. Do whatever you have to do, because tomorrow is literally — and I mean this — sounds trite, it is the first day in the rest of your life. And that life can either be a life of hope or a life of abject insanity. I can't think of any other way to put it. That's my rant. I am sorry … but like I said I have never seen anything as urgent as this current situation."
Conforth did not immediately respond to a phone call and email seeking comment Tuesday.
His academic profile lists him as the founding curator of the Rock and Roll Hall of Fame and Museum and director of the Blues Heritage Foundation.
The scholar's self-described "rant" came on the same day the campus hosted President Obama, who told the crowd "when I tell you that Donald Trump is not the guy who's going to look out for you, you need to listen. Do not be bamboozled. Do not fall for the 'okie doke.'"
One student told The College Fix that most professors talked about the rally at some point in class on Monday, a likely indication that they are trying to drive turnout in the swing state.
MORE: Math professor urges students to vote for Hillary Clinton (VIDEO)
Like The College Fix on Facebook / Follow us on Twitter