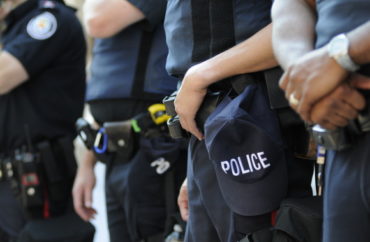 After a "sustained 116-year history," the University of Toronto will be ditching the word "police" from its campus law enforcement branch in order to make its officers more "approachable, accessible and distinguishable."
According to The Varsity, the UT Campus Police will be known henceforth as the University of Toronto Campus Safety Special Constable Service.
Part of the reason for the change is a two-year-old law which forbids "special constables" from using the word "police." Another is the "increased scrutiny" cops have gotten from the campus community, which has included calls to defund them.
The report cites several controversies which have contributed to such, including a quintet of officers who had "approached and questioned" members of the UT Graduate Students' Union who hung a "Cops off Campus" banner.
Last year, the UT Students' Union demanded an apology from campus police for its "historically unjust behaviour towards Black, Indigenous, and other racialized and marginalized students."
The Campus Safety Special Constable Service's "new visual identity" soon will be "reflected in changes [in] vehicle markings, uniforms and online presence," the university said in a statement.
MORE: Police abolition is the only answer: Stanford student group
As might be expected, "equity"-associated individuals weren't completely satisfied.
In a written statement to The Varsity, UTSU Vice-President Equity Reva Aggarwal added that removing the word "police" from its name has encouraged students to approach it in the case of emergency.

However, she cautioned that it "may not be effective in practice since there are a lot of other systemic issues that contribute to the uneasiness around campus police."

"We believe that this was the first necessary step to reduce, and ultimately remove the social stigma of the campus police – wherein the students would no longer perceive the campus safety team as brutal and aggressive law enforcers – while also ensuring students' safety on campus," wrote Aggarwal.

She further wrote that, while the rebrand may appear mostly symbolic, the UTSU hopes that it will come along with a larger shift in the role of Campus Safety for students, and that the service will take steps toward becoming peace officers, which the union believes would include being unarmed.
The UT Graduate Students Union's Justin Patrick added that there should be "a general shift of resources" away from campus law enforcement to "services that aim to support students."
MORE: Students protest Johns Hopkins' private police force
IMAGE: arindam banerjee / Shutterstock.com
Like The College Fix on Facebook / Follow us on Twitter