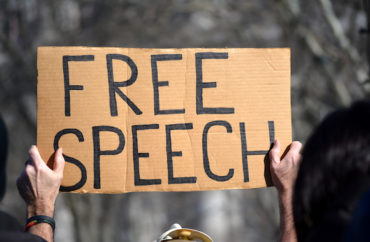 The University of Wisconsin System Board of Regents approved a resolution Friday calling for a public hearing on its free speech policy, the first step "in a long process to codify [it] into administrative code."
In the fall of 2017, the board adopted a "three strikes" policy for students who have "materially and substantially disrupt[ed] the free expression of others." After strike three, the student is expelled.
The Wisconsin State Journal reports just one member of the 18-member board — the Democratic Governor Tony Evers-appointed Karen Walsh — voted against the resolution as she was "uncomfortable with the sanctions laid out for students" who violate the policy.
"I worry about whether we can effectively and safely judge what a strike means," Walsh said. "These issues are not as black and white as we'd like them to be."
Governor Evers likewise opposes the policy; he voted against it as a member of the board when it was adopted.
Several other Regents, most of whom were appointed by Walker, reiterated their support for the policy Friday and said consequences are needed if repeated disruption were to occur.

"Compared to other campuses, I think we're doing really well," Regent Jose Delgado said, referring to free speech protections.

The policy's adoption came in response to what Republicans see as growing hostility from liberals on college campuses to conservative ideas. UW-Madison students in 2016 briefly shouted down and traded obscene gestures with conservative columnist Ben Shapiro before his event continued.

The free speech policy was a topic of conversation last fall when UW-La Crosse Chancellor Joe Gow brought a former porn star to speak to students as part of a Free Speech Week exercise. The invitation sparked several opinion pieces in the La Crosse Tribune, including disapproving ones by System President Ray Cross and Regent Bob Atwell.
Examples of "material and substantial disruptions" include "producing noise that interferes with events and activities" and "'blocking the vision of others in any manner,' such as with signs, props, clothing and other items." Laser pointers, setting off alarms, and turning off the lights also are covered.
Protest signs are permitted if they don't obstruct anyone's view, and "engage[ment] with the speaker" is permitted at the "appropriate time," such as an event's question and answer segment.
The hearing is scheduled for August 13.
MORE: UW-Madison spells out new rules for campus protests
MORE: Regents order expulsion for students who repeatedly disrupt speech
IMAGE: Christopher Penler / Shutterstock.com
Like The College Fix on Facebook / Follow us on Twitter