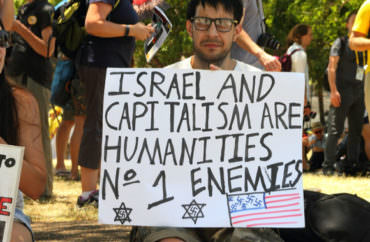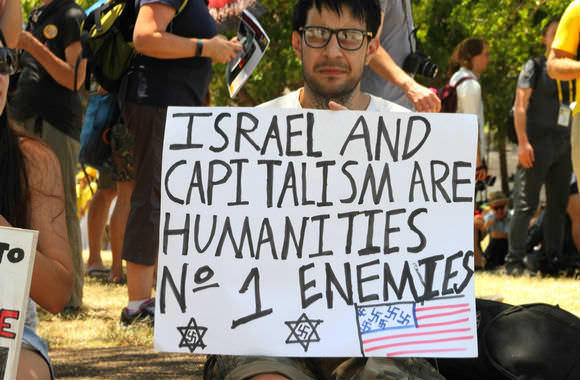 One professor already punished with revocation of 'merit raise,' sabbatical
Two is a coincidence and three is a trend.
That's why the University of Michigan is stepping in to prevent a third professor from refusing to write a letter of recommendation to a student studying abroad because the location is Israel.
President Mark Schissel told the community Tuesday the taxpayer-funded institution is starting a review of faculty obligations to students in light of the two rejections.
Former president James Duderstadt will chair panel of "distinguished faculty members" who will consider the "intersection between political thought/ideology and faculty members' responsibilities to students," reviewing relevant university policies and those of peer institutions.
They will also gather feedback from across campus and recommend how to "clarify" or create new policies that explicitly govern faculty obligations in light of "their personal views," Schlissel wrote.
Prof. John Cheney-Lippold withdrew his promise to write a letter of recommendation for a student hoping to study abroad after learning it would be in Israel. The American Association of University Professors said his action appeared to violate its ethics statement.
Schlissel's letter was released the same day The Washington Post reported that a teaching assistant, Lucy Peterson, did the same thing to a different student last week.
Both apologized for promising to write letters without knowing the study-abroad location, and both cited their adherence to an academic boycott of Israeli institutions, one of the chief aims of the boycott, divestment and sanctions movement.
The second student, Jake Secker, complained to Michigan Hillel, which then complained to the university's Board of Regents about Peterson's anti-Israel rejection, according to the Post.
Secker's father had initially considered pulling him out of UMich in response to the snub, but his wife contacted Schlissel's office, who passed them to an associate dean, Rosario Ceballo. She offered to write him a letter of recommendation herself.
The student told the Post he wasn't satisfied with "just words" from the administration: He wants a "policy that prohibits teachers from denying a student an educational advancement based on a professor's political beliefs."
Secker's father Ed also wants "disciplinary action" against such faculty who violate the university's "fiduciary responsibility to students."
MORE: Professor revokes letter of recommendation, citing anti-Israel views
Schlissel's letter says such refusals by faculty "will not be tolerated and will be addressed with serious consequences."
The Detroit News obtained a letter to Cheney-Lippold, the first professor to deny a letter, that revokes his "merit raise" for this academic year and prevents him from going on sabbatical for two years. He was scheduled to take sabbatical in January.
Elizabeth Cole, interim dean of the College of Literature, Science and the Arts, also warned him he could be fired if he does something similar again:
In the future, a student's merit should be your primary guide for determining how and whether to provide a letter of recommendation. You are not to use student requests for recommendations as a platform to discuss your personal political beliefs.
Cheney-Lippold's behavior went beyond citing his personal views to deny academic support to students, according to Cole: He discussed his pro-BDS views in two of his classes and explained why he didn't write the letter for Abigail Ingber.
This was not only a "misuse of your role as a faculty member" and robbed students of "an entire class period" with relevant material, but Cheney-Lippold violated Ingber's privacy in media interviews and "cast a national spotlight" on her, Cole wrote. Cheney-Lippold also publicly misrepresented the university's anti-BDS position, the interim dean said.
Ingber's father Mark told the News that Cheney-Lippold should be fired. Noting that his daughter asked him to write the letter in August, Mark Ingber said it was "manipulative" that Cheney-Lippold waited until his tenure took effect Sept. 1 – and he couldn't be easily fired – to revoke his promised recommendation.
Before he received tenure, Cheney-Lippold was earning just under $78,000 a year, a university spokesperson told the News.
Read Schlissel's letter and Post and News coverage.
MORE: AAUP says Cheney-Lippold likely violated its ethics statement
IMAGE: paintings/Shutterstock
Like The College Fix on Facebook / Follow us on Twitter