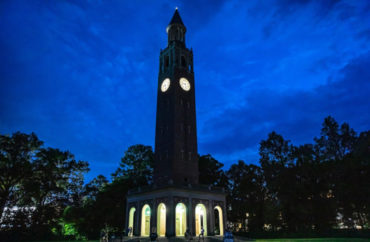 Decision comes after Nikole Hannah-Jones controversy embroiled school
A national journalism accreditation organization has denied the Hussman School of Journalism and Media at the University of North Carolina-Chapel Hill full accreditation because the school has fallen short on measures meant to promote racial diversity.
The accrediting council reviews schools every six years. In a vote taken April 29, the Accrediting Council on Education in Journalism and Mass Communications instead granted Hussman provisional accreditation, meaning the school would retain its accreditation pursuant to a further examination in two years.
Hussman's last review took place in October 2021, with the on-site team unanimously recommending re-accreditation despite the school being out of compliance with the council's diversity recommendations.
But earlier this month the full council voted only to grant provisional accreditation. Hussman Interim Dean Heidi Hennink-Kaminski did not immediately respond to a request for comment by The College Fix to address what changes needed to be made to meet accreditation.
"The council's site team said the journalism school needs to continue to follow its diversity plan and initiatives in student and faculty retention and recruitment specifically. It also said the school needs to include diversity and inclusion within its curriculum," the Daily Tar Heel student newspaper reported.
However, faculty listed on the journalism school's website shows that of the four dozen or so professors in the school, it appears to be a very diverse staff; many are female and professors of color.
Professors at the school are also already required to undergo diversity training. And undergrads are required to take a diversity course to earn a diploma.
But according to its accreditation standards, the council requires a journalism school to have a "written diversity plan for achieving an inclusive curriculum, a diverse faculty and student population, and a supportive climate for working and learning and for assessing progress toward achievement of the plan."
Further, a school must have an "understanding of issues and perspectives that are inclusive in terms of domestic concerns about gender, race, ethnicity and sexual orientation" and must make "effective efforts to recruit women and domestic minority faculty and professional staff and, where feasible, recruits international faculty and professional staff."
In an email to faculty provided to The College Fix by a school spokesperson, Hennink-Kaminski called the council's action "unexpected."
"Let us embrace our opportunity to continue to demonstrate unequivocally who we are and what we value. This requires effort, responsibility, and accountability from every single one of us," she wrote.
Accrediting Council Executive Director Patricia Thompson did not respond to questions posed by The College Fix.
Last year, the journalism school was involved in a national controversy when it offered controversial New York Times writer, "1619 Project" creator and UNC alumna Nikole Hannah-Jones, who has no academic background, a five-year contract at a salary of $180,000 per year, with the option for tenure when the contract was up.
The recruitment of Hannah-Jones lasted a full year, beginning in 2019.
But Hannah-Jones and her supporters felt disrespected that she was not offered tenure, which virtually guarantees lifetime job protection. She cited "viewpoint discrimination" and "race and sex discrimination" for the decision to only offer her a five-year contract.
Documents obtained by The College Fix at the time uncovered a behind-the-scenes push by donor Walter Hussman to prevent Hannah-Jones from getting the job. Hussman, whose name adorns the school after providing a $25 million gift to UNC, repeatedly emailed then-Dean Susan King, worrying that if Hannah-Jones was hired, his name would forever be tied to the 1619 Project.
"If this happens, I know I will be asked about it," he emailed King on New Year's Eve 2020. "I find myself more in agreement with Pulitzer prize winning historians like James McPherson and Gordon Wood than I do Nikole Hannah Jones. These historians appear to me to be pushing to find the true historical facts. Based on her own words, many will conclude she is trying to push an agenda, and they will assume she is manipulating historical facts to support it."
"If asked about it, I will have to be honest in saying I agree with the historians," he wrote.
Hannah-Jones later declined the job at Hussman and took a job at Howard University.
If the school does not retain its accreditation, it will certainly lose both prestige and students.
According to the ACEJMC website, accreditation is "a collegial process based on self- and peer assessment for public accountability and improvement of academic quality" in which "peers assess the quality of an institution or academic program and assist the faculty and staff in improvement."
"Accreditation is an integral part of our system of higher education," the website states.
Currently there are 119 schools accredited by the Accrediting Council on Education in Journalism and Mass Communications.
MORE: Activist lectures U. North Carolina students about 'right-handed privilege'
IMAGE: UNC-Chapel Hill
Like The College Fix on Facebook / Follow us on Twitter