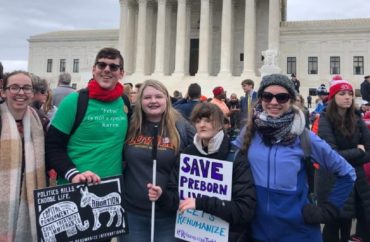 Student body president released statement to 'prevent further spread of harmful misinformation'
Groups that oppose abortion will be allowed to receive funding through the student government, University of North Carolina-Chapel Hill officials clarified in response to questions.
UNC officials informed the Foundation for Individual Rights and Expression that an executive order from the student government that forbade funds from going to "any individual, business, or organization which actively advocates to further limit by law access to reproductive healthcare," did not apply to organizations such as Students for Life. FIRE announced the clarification on August 10.
FIRE raised questions about student body president's Taliajah Vann executive order released in the wake of the June 24 Dobbs v. Jackson Supreme Court decision that reversed Roe v. Wade and returned the issue of abortion to the states.
FIRE wrote in its blog:
UNC Associate Vice Chancellor and Senior University Counsel Kara E. Simmons assured FIRE that the executive order does not apply to student groups because there is no mechanism for them to request funding from the executive branch. Simmons promised that, even if clubs could request executive branch funds, the student government and university administration would ensure that any funding would be distributed in a viewpoint-neutral manner, per UNC policy and the First Amendment.
Vann also wrote a letter to FIRE to respond to its criticism.
The student body president wrote:
The Vann Administration is devoted to advocating for the rights of students at UNC and have consistently upheld our duty to do so. Executive Order No. 2, the subject of your remarks, applies solely to the Undergraduate Executive Branch and does not affect any other Registered Student Organization (RSO) at UNC. Enacting Executive Order No. 2 and controlling our financial affiliations is fully within the branch's rights as a student organization.
"Our position is firm and in accordance with the Code that governs the UNC student body and the law, and we encourage you to refer to our website for our original statements regarding this issue," Vann wrote further. "Developing an understanding of these documents may help to clarify any confusion surrounding our Executive Order and prevent further spread of harmful misinformation in the future."
MORE: Washington AG sued for probing religious beliefs of university
IMAGE: Wolfpack for Life/Facebook
Like The College Fix on Facebook / Follow us on Twitter