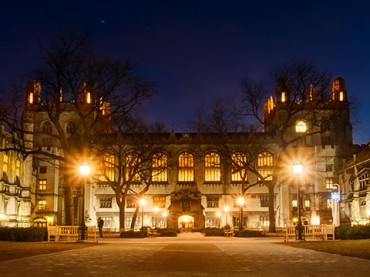 UPDATED
It pioneered the faculty statement in favor of freedom of expression, and now the University of Chicago has earned a coveted green-light rating from the Foundation for Individual Rights in Education.
FIRE said the university has "revised all of its speech codes to join an elite group of colleges and universities that maintain policies respecting student and faculty free expression rights and meeting First Amendment standards."
It credited Geoffrey Stone, a law professor and First Amendment scholar, for leading the way:
"The University of Chicago has been a leader for free speech on college campuses with the Committee on Freedom of Expression's exemplary free speech policy statement, and now I'm happy to say that it is also a green light institution," said Azhar Majeed, FIRE's director of policy reform. "I'm even more pleased to report that UC is the fourth university to earn FIRE's highest rating for free speech this year."
Majeed told The Fix in a phone interview that the university revised six codes to get on FIRE's good side and called the administration "very cooperative." Among those were its policies on sexual harassment, "student posting," civility and campus demonstrations.
It's not that the school didn't make speech a priority, or that any campus constituencies put up a fight, Majeed said. Rather, the administration had "different policies under the purview of different offices," some of which it didn't even know about, Majeed said.
The revision process took so long – more than a year after its faculty statement on free expression – in order to get the wording "exactly right," he said.
Majeed declined to tell The Fix in a followup email what provisions the university changed between versions of the policies. "FIRE's green-light announcements are an occasion to celebrate a university's decision to work with us … and thus not to revisit their previous restrictions on speech," he wrote.
UPDATED: FIRE's Majeed gave more information on which speech codes were revised and the process for revising them. The article has been amended to include his interview.
RELATED: University of Chicago releases sweeping free-speech statement
RELATED: Already good on free expression, Penn strives to do even better this year
RELATED: Team Mitch: Purdue gets 'green light' rating for junking speech codes
RELATED: George Mason University dumps all speech codes, earns coveted 'green light' rating
RELATED: Barely two dozen colleges respect free speech, and University of North Florida just became one
Like The College Fix on Facebook / Follow us on Twitter
IMAGE: Chris Smith/Flickr