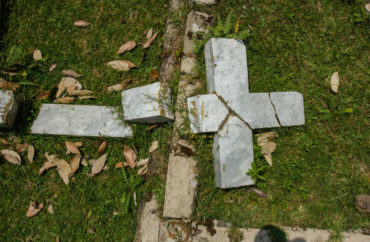 'We moved too quickly'
East Central University in Oklahoma learned the hard way to consult its community before taking orders from a well-funded national anti-religion pressure group.
President Katricia Pierson said she is "immediately withdrawing" the removal of Christian items including Latin crosses and Bibles from a campus chapel, following public outrage that the public university let Americans United for Separation of Church and State bully it with a litigation threat.
In a statement on the university website, Pierson said "we moved too quickly" but explained the university simply wanted to "show support for all cultures and religious beliefs" by discriminating against Christian items in the chapel:
We regret not taking time to pause and thoughtfully consider the request and the results of our actions on all of the students, faculty and community members who we serve. …

ECU is committed to diversity and welcomes different perspectives. This is an opportunity to have a thoughtful dialogue.
The Christian items may yet be banned from the chapel, but not immediately. Pierson said a newly formed committee of students, faculty and "community members who represent a diversity of viewpoints" will decide how to handle religious displays in the chapel, which also hosts secular events.
The university will wait for the committee to discuss "policy or guidelines" on religious expression "in the art, history, architecture, study and areas of worship on campus," according to Pierson.
It's not just Americans United threatening to sue ECU for letting Christians keep their items in the chapel.
Tulsa World reports that another anti-religion group, the Freedom from Religion Foundation, demanded the university ditch its "sacred music" program, which includes "in-depth study of the history and philosophy of sacred music, hymnology and liturgy, guitar and contemporary worship, sacred music composition, sacred music practicum, and an internship."
The foundation said that training choir leaders "to promote a sectarian religious message" is unconstitutional.
Read Pierson's statement and Tulsa World report.
h/t Inside Higher Ed
MORE: University de-Christianizes chapel to appease rich God-haters
Like The College Fix on Facebook / Follow us on Twitter
IMAGE: Denis Shevyakov/Shutterstock