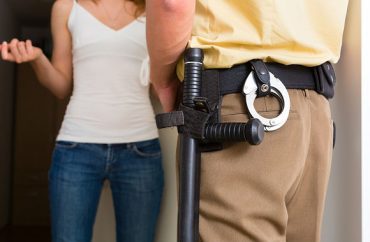 Cops will simply 'educate' groups who are 'congregating'
In an era where calling the police is deemed an inherent threat to the alleged aggressor's life, it seemed curious that colleges across the country promised to harshly enforce their masks-at-all-times and social-distancing rules.
The University of Texas-Austin was one of them, promising punishments to students who fail to wear masks inside buildings regardless of social distancing.
Apparently in response to criticism that this policy required needless police interactions, the taxpayer-funded institution and its campus police department confirmed that non-police staff will enforce the rules … sort of.
Daily Texan reporter Andrew Zhang tweeted Monday that UTPD told him campus police will "educate" any groups it sees "congregating" in violation of restrictions on their freedom of association, "giving them information and ask[ing] that they abide by CDC guidelines." The police department will not "punish" them (Zhang's word).
A university spokesperson told KXAN Austin that administrative offices will bring down the hammer on anyone breathing freely and enjoying the company of others in violation of rules that were imposed without the approval of the Board of Regents and with no public review process.
For students, that means the Dean of Students office; for faculty, the Office of the Provost; and for staff, UT human resources:
"We absolutely do enforce rules on social distancing and face mask wearing, we have consequences and we spell those out," [J.B.] Bird explained, noting that police are never charged with enforcing student conduct rules (for example a police officer would not be tasked with enforcement if a student cheated on an exam).
Woe to anyone without a formal relationship to the university: Police will use their monopoly on violence to force visitors to weak masks and keep social distance. They will be "transported off campus" if they don't comply, KXAN paraphrased Bird.
MORE: UT bans students from breathing freely indoors
Campus cops will also "step in if a university employee attempts to educate or enforce a COVID-19 guideline and the instance escalates to a criminal matter," the TV station reported.
A police spokesperson explained what that means:
"If the subject doesn't comply, the university representative can ask the person to leave the premises," she continued. "If the subject does not comply with university rules and refuses to leave, it becomes a criminal trespass issue. UTPD will respond to acts of criminal trespass."
(Civil trespass is one of the claims in Liberty University's libel lawsuit against The New York Times, whose reporter and freelance photographer allegedly ignored clearly posted signage that limited campus access to students, employees and those with "campus business" under COVID-19 restrictions.)
UT gives itself wide latitude to punish students deemed to be "deliberately" threatening "health and safety," with suspension one option. While the KXAN report mentions failure to wear a mask or maintain social distance, there is no definition given of "behavior" that crosses this threshold, leaving it up to the university to subjectively decide case by case.
Students who refuse to wear masks in class will be docked that day's "participation grade," and the instructor may cancel the class in response. (Remember: this is regardless of whether students are keeping six feet distance from each other and instructors.)
The university is urging students to rat on each other for violations, putting "COVID-19 Concern" at the top of a drop-down menu for its Incident Report Form. (The platform provider, Symplicity, says it creates solutions for colleges to "cultivate positive relationships" with students.)
According to KXAN, the Dean of Students office said it "anticipates a high volume of reports made on this platform and urges people filing reports to make them as specific and complete as possible."
MORE: UT threatens to punish students for 'parties'
IMAGE: Kzenon/Shutterstock
Like The College Fix on Facebook / Follow us on Twitter