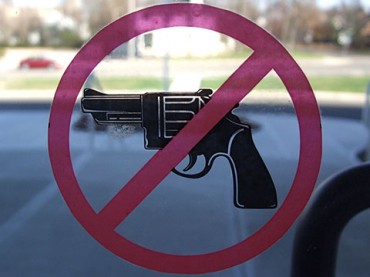 Sigh. News from the University of Texas at Austin. The Daily Texan reports:
Student Government voted Tuesday to oppose a state Senate-proposed campus-carry policy at the University. Twenty-one of 27 assembly members voted in support of the resolution, a statement against allowing concealed handguns on campus.

Under current state laws, licensed students, faculty and staff are allowed to keep handguns in their cars on campus. With the passing of SB 11 in the Texas Senate, the University would not be able to prohibit licensed students, faculty or staff from carrying concealed handguns on campus.

SG's resolution, AR 30, was heavily debated in the open forum during the assembly meeting, with both sides coming forward to address the issue. Most students who spoke in opposition to the SG bill echoed the statement that the bill would not be representative of all students. 
The motto of Austin is "keep Austin weird," and it seems like the students running its public university are living up to that – because most real Texans wouldn't stand for such nonsense.
Speaking of which, in the real world, Breitbart reports that the "Texas Senate State Affairs Committee has voted to recommend that the Texas Senate pass both SB 11, the 'campus carry' bill, and SB 17, the 'open carry' bill. Both bills now head to the full Texas Senate for consideration."
Like The College Fix on Facebook / Follow us on Twitter
IMAGE: ScottBeale/Flickr