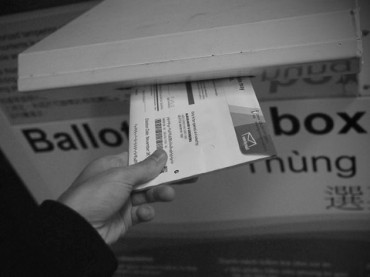 A U.S. Supreme Court ruling from October allows voters in Wisconsin to cast their ballots without providing a photo identification – but the University of Wisconsin still uses voter registration as one form of residency verification for in-state tuition.
It's an irony not lost on one reader of The College Fix, a father who asked  us why the University of Wisconsin requires prospective students to answer where and when the last time their parents voted on its application.
"My son is filling out applications for college, and has been accepted to a couple already," noted the father, whose name has been withheld as to not affect his son's future college career.
"He's filling out additional applications to see what might be most affordable. Now, one of these is University of Wisconsin. On one of the pages, they ask if both guardians vote or are registered to vote, and when the last time they voted was. I've never see this on any other application. What the heck would that have to do with anything? Financial info, I can understand, but voting?"
The undergraduate application questions about voting can be found on the top of page five of the application, where it clearly asks where and when the last time the applicant's guardians voted or registered to vote. The application notes: "This section must be completed by ALL applicants (including dates)."
The College Fix reached out to the University of Wisconsin, and asked why questions about voter registration appear on the undergraduate application. After several business days, the Office of Admissions at UW-Madison responded with the following statement.
The questions you are referring to—"Parent/Guardian – Voting: Where did he/she last vote or register to vote?" and "When did he/she last vote or register to vote?"—are in the residency for tuition determination section of the application to help determine WI residency for tuition purposes. This section is a part of the UW System Application used for all UW institutions.

This is allowed under Wisconsin Statute 36.27(2) (e), relating to exemption from nonresident tuition at the University of Wisconsin-Madison.
In response to the university's argument, the father scoffed:
"A voting record is not proof of residency. And given the amount of energy expended in that state by people insisting that you shouldn't have to show ID to vote, I find it a very strange question to ask."
Wisconsin currently does not require photo identification in elections after the United States Supreme Court issued an order last October blocking photo ID voting laws in Wisconsin. So there is no guarantee that voter registration in Wisconsin is concrete proof of residency.
The concerned father said his child had filled out applications to 10 other schools, and none of the forms asked for voter registration information.
However, it is not unheard of for some schools to request the information.
Examples of these are the University of North Carolina-Chapel Hill, the University of Hawai'i Manoa, and the University of Utah. Unlike Wisconsin, these schools do not require it initially, but instead reserve the right to ask for it later, or say it may be one way of many to help prove residency.
College Fix reporter David Hookstead is a student at the University of Wisconsin Madison.
Like The College Fix on Facebook / Follow us on Twitter
IMAGE: Photo Grrrr/Flickr