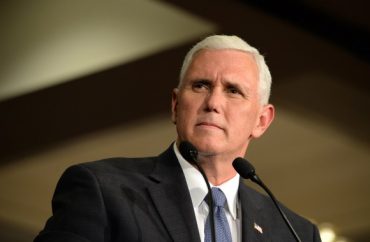 Taken down a day later
Either George Washington University's Elliott School of International Affairs wants the world to know it thinks the vice president is an "idiot," or one of its staffers forgot to log out of its official Twitter account.
Neither university media relations nor the Elliott School has responded to College Fix requests last night to explain its three retweets on Tuesday slurring Mike Pence, which were brought to light by Campus Reform.
All the tweets the Elliott School retweeted concerned Pence's failure to wear a mask as he toured the Mayo Clinic during the COVID-19 pandemic. Each used the hashtag #PenceIsAnIdiot. One accused Pence of hypocrisy for leaving a football game because players were kneeling during the national anthem, but then "disrespect[ing] healthcare workers" by not wearing a mask on his tour.
Campus Reform says the Elliott School's retweets remained live until late Wednesday afternoon, when they were un-retweeeted with no explanation.
Sometimes staffers who have posting privileges to their university's social media accounts forget to log out of the official account so they can tweet, retweet and "like" from their personal accounts.
Going by titles, the Elliott School's account would likely be managed by Colette Kent, senior associate for digital content and multimedia. The public affairs department also includes Senior Communications Associate Anthony DeSantis, Web Editor Olivia Burke and Director Robin Khan.
MORE: Coronavirus researchers quickly delete tweet appearing to question models
IMAGE: Gino Santa Maria/Shutterstock
Like The College Fix on Facebook / Follow us on Twitter