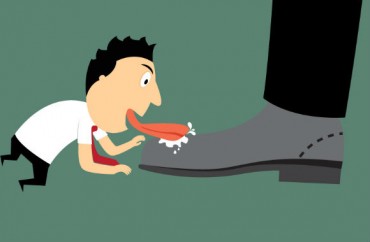 The student union at UK's University of Warwick has cowered before the demands of a brand new student organization, one which was put together just last month in response to a campus appearance by a member of the Israeli Defense Forces.
Created on November 19, the group Warwick Occupy took issue with the IDF's Eyal Dror's speech on the same date. Dror was invited by the campus Jewish Israeli Society in conjunction with StandWithUs, according to The Boar.
Warwick Occupy lived up to its name by occupying the Warwick Student Union building after Dror's appearance, and issuing several demands. The Student Union responded in swarmy fashion, noting on Facebook that it should have recognized the "significant distress" Dror caused for the university's Palestinian, Arab and Muslim students.
It continued with an apology to everyone who felt "ignored, threatened or caused to feel unsafe."
Worse, the SU issued a statement pandering to numerous Warwick Occupy demands. It began by noting the SU worked with WO to establish a code of conduct for the latter's occupation of its building … "with the aim of protecting the rights, and health and safety" of all involved.
And it only gets "better":
The Union's Board of Trustees has already approved a full Equality, Diversity and Inclusion Review of the organisation. This review will explore the SU's processes, attitudes and behaviours, and carry out an investigation into any discriminatory practice that may exist within our institution.

The SU has guaranteed that Warwick Occupy, Liberation Societies and other student groups will have a chance to feed into this process, and that these demands will be provided to the external consultants conducting the review. Within the first 5 weeks of the appointment of the external consultant, Warwick Occupy will be given a two hour meeting with them.

We have committed to providing all staff with mandatory anti-discrimination training and thetender process was approved on November 25th. …

Warwick SU is committed to ensuring […] the aims of Warwick Occupy around liberation, decolonisation and anti-racism, and that the people leading on the recruitment of the consultant understand these issues and will be searching for consultants that understand these issues in depth.

We will embed anti-discriminatory practices into our HR policies, including our recruitment processes …
The SU also addressed WO's calls for "an investigation into, and the undoing of, colonial legacies on campus," the "targeting"of Palestinian and Muslim campus groups, "changes to the democratic and anti-oppression structures within" the Student Union, and support for "future occupations of Warwick University spaces."
The Jewish Israeli Society called the Union's response an "embarrassment," and said it was "littered with wishy-washy insinuations."
Read the Boar article and full Student Union statement.
MORE: Jewish student gov. member faces possible impeachment over Israel trip
MORE: Student union denies it dismissed kosher food resolution as 'pro-Israel'
IMAGE: Artit Fongfung / Shutterstock.com
Like The College Fix on Facebook / Follow us on Twitter