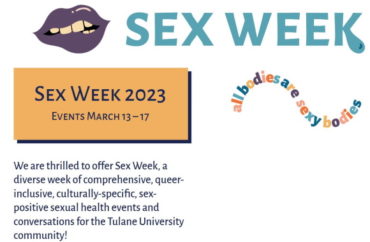 Gallery is part of school's annual Sex Week
Tulane University will host a Genital Diversity Gallery as part of its annual upcoming Sex Week festivities.
This year's observance, which runs March 13 through March 17, consists of more than a dozen events, including the gallery, billed as showcasing "SEX-ED + models."
"SEX-ED + is the first project to create anatomically exact tools, based on human
molding techniques, and represents the vast spectrum of human life (assigned-male, assigned-female, intersex, trans, and with voluntary or forced surgeries) to destigmatize genitals and celebrate the diversity of bodies that exist. Additional giveaways and goodies will be present," the university's website states.
The Daily Caller reported that the Genital Diversity Gallery was a part of the last two years' sex weeks as well at Tulane.
According to the university's website, other events on tap include: sex trivia, mind-body yoga, a talk on "Reclaiming Pleasure: Shame & the Queer Body," sex ed bingo, a workshop on "sensual intelligence," another on "polyamory and polyqueer" relationships, and a Q&A with "local sex educators."
Organizers state online that Sex Week is important because it offers "comprehensive, queer-inclusive, culturally-specific, sex-positive sexual health events and conversations."
The stated learning objectives include providing "opportunities for students to explore and identify their expectations and boundaries around pleasure, relationships, sexual interactions, and safer sex practices" and to "center conversations for and facilitated by QTBIPOC students about sexual health and empowerment."
Tulane is a private university in New Orleans. Tuition is $62,000 per year.
MORE: Harvard Sex Week includes 'p*ssy portraits,' 'f*ck fest'
IMAGE: Tulane University screenshot
Like The College Fix on Facebook / Follow us on Twitter