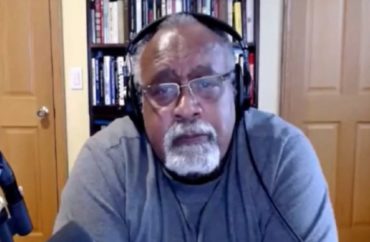 UPDATED
Says reparations would give away the bargaining power of black Americans
The Public Life Project at the University of Minnesota hosted Brown University economist Glenn Loury for a discussion about racial inequality.
Professor Loury (pictured) spoke at the February 3 virtual event, titled "Why Does Racial Inequality Persist?" and explained why he opposes affirmative action and reparations for the descendants of slaves.
"It's a big issue, and I'm against it," Loury said about reparations. Professor Loury provided The Fix with a full copy of his speech.
He said:
I will note that when the Japanese Americans who had been interred [sic] by the Roosevelt administration during World War II were finally in an act of Congress, signed into law by Ronald Reagan, officially acknowledged they had been wrongly victimized, they were offered a token reparations payment. It was $20,000 a head and it went out to 80,000 people, people had been actually interred in camps.
He said those reparations were correctly paid.
"By contrast there are 35 to 40 million African Americans. If we take 40 acres and a mule as a benchmark, and we bring it forward at a normal rate of return," it would cost "$4 trillion dollars," he estimated. In contrast, the total cost of Japanese American reparations totaled $1.6 billion.
Loury said the amount of reparations to black Americans would "require creating a Social Security magnitude system based on racial identity."
"That is a mistake for this society." He said it would "mean classifying people" and creating new structures "based on a person's race."
He said there is a "practical" issue with reparations, too. While he is sympathetic to the problems in the black community, some of which he said can be traced back to slavery and Jim Crow, "it would not be the smartest thing in the world to cash out our position," Loury said.
Reparations would create a "transaction" and "commodify" the obligation America has to its black residents. Instead, Loury said black citizens should work with other Americans for a better economic system and support for all.
He said the "moral capital" of black citizens could be used for the purpose of extending the social service system to more Americans.
He then went into affirmative action, referencing the Students for Fair Admissions case pending at the Supreme Court.
"We're 50 years down the line with these policies, a half century," Loury said. "Racial preferences have become institutionalized," the professor said, which causes him concern.
"Equality of representation in the most rarefied venues of competitive selection is ultimately inconsistent with equality of respect, when there are different performance levels between the populations in question," the Brown economist said.
MORE: Check out the Campus Cancel Culture Database
He made this comment in reference to the "right tail" of distribution of talent, meaning those in the 95th percentile.
As long as objective measures are used in admissions, such as standardized tests or Advanced Placement grades, there will be a difference in who is admitted to colleges, Loury said. If those indicators are not correlated to academic performance in college, they should not be used.
But as long as the indicators are fair at assessing among the top five percent of students, there will be differences. This is defined as the criteria correlating to how well students do in college.
"The consequence of using racial preferences to promote representation of the disadvantaged in venues of high selectivity, I claim, is that either we acknowledge these differences in post-admissions performance or either we don't," he said.
"True racial equality," Loury said, cannot come from universities adding in racial preferences to academic performance.
"It will get you representation, but it will not get you to true equality, that is a to an equality of dignity, of respect, of standing, of belonging." Loury said affirmative action leads to greater racial disparities because students admitted to universities that they are not academically prepared for, a result sometimes called "academic mismatch" or "mismatch theory."
MORE: Stanford panel puts reparations at $10 to $12 million
Editor's note: The original headline and article made reference to the event being part of Black History Month events at the university. The article has been updated to remove those erroneous references. A copy of the speech from Professor Loury has also been added.
IMAGE: University of Minnesota/Zoom
Like The College Fix on Facebook / Follow us on Twitter