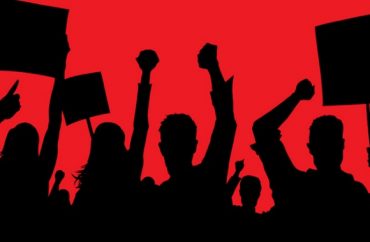 The expression "damned if you do, damned if you don't" comes to mind in this latest example of liberal outrage.
One of the biggest complaints among people of color is that there's too many white people dominating books, television, movies and the like.
Enter a biology professor at the University of Wisconsin-Madison who thought she would use an image of a black woman instead of the typical white male in one of her lecture slides to promote diversity and inclusion. She's regretting that decision now.
The Daily Cardinal campus newspaper reports that Professor Caitilyn Allen was criticized on social media by students angry at her use of the image because in differentiating between types of life on Earth her example of an "animal" (i.e. human) was a black woman.
Because I wasn't joking when I said my professor had this on the lecture powerpoint. UW is definitely still #TheRealUW if y'all was confused pic.twitter.com/O2E6rZ12hO

— Tashiana ? (@yagirltashi) January 24, 2017
"[T]he day's lecture topic was the Irish potato famine, which was caused by an organism called oomycetes. In an attempt to illustrate that oomycetes are no more related to fungi than to plants and animals, she showed a rough tree of life diagram featuring the controversial image. Allen said at this point in the lecture a student asked her why she chose the image of the woman," the Daily Cardinal reports, adding:
"I explained that too often scientific images represent all of humanity as a white male and I wanted to present humanity in a more representative way and especially as a farmer because this class is about agriculture," Allen said. "I've done research in both Uganda and Guatemala and I respect and admire the women farmers of the developing tropics."

She said another student approached her after lecture and explained how attaching the word "animals" to a picture of a black woman was offensive, because of the non-biological, derogatory implications.

Allen addressed the issue and apologized in lecture Wednesday.

"I feel it was a mistake for me to have used that image because in addition to my intended and inclusive biological meaning the image also communicated an unintended and negative social message," Allen said to The Daily Cardinal. "I'm distressed that I inadvertently offended students. Certainly my intention was the opposite, but I do understand how it came across in a very bad way."
Perhaps it's no surprise that this occurred considering: a student at Bowling Green State University falsely identified a sheet draped over lab equipment as a member of the Ku Klux Klan; a person walking around with a blanket around his or her shoulder was mistaken for a KKK member at Oberlin College; and three "nooses" discovered at the University of Delaware actually turned out to be "remnants of paper lanterns" leftover from a previous event.
In other words, when students are taught to see racism in every little thing, they do.
MORE: More 'Trump-inspired' hate crime hoaxes pop up on campus
Like The College Fix on Facebook / Follow us on Twitter
IMAGE: Shutterstock