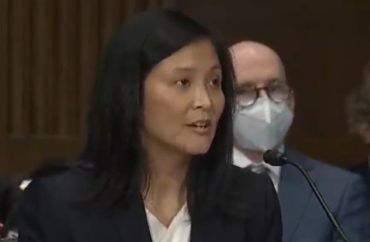 Claimed she thought the letter would just go to the university
A judicial nominee found herself in the hot seat yesterday after Republican Senators questioned her about a 2018 letter from Yale alumni that called then-Judge Brett Kavanaugh "intellectually and morally bankrupt."
The letter came out in July 2018, several months before Christine Ford made her sexual assault allegations against Kavanaugh.
Ninth Circuit nominee Jennifer Sung (right) walked back her support for the letter from her fellow Yale Law graduates. Kavanaugh's rulings as a federal judge indicated he is a "intellectually and morally bankrupt ideologue intent on rolling back our rights and the rights of our client."
The letter said in part:
Now is the time for moral courage — which for Yale Law School comes at so little cost. Perhaps you, as an institution and as individuals, will benefit less from Judge Kavanaugh's ascendent [sic] power if you withhold your support. Perhaps Judge Kavanaugh will be less likely to hire your favorite students. But people will die if he is confirmed. We hope you agree your sacrifice would be worth it. Please use your authority and platform to expose the stakes of this moment and the threat that Judge Kavanaugh poses.
"Judge Kavanaugh's nomination presents an emergency — for democratic life, for our safety and freedom, for the future of our country," the letter said. He also represented " a threat to the most vulnerable."
The letter is addressed to the Yale Law School Leadership but was released publicly. The Ivy League university had praised the nomination of Kavanaugh, a Yale law grad. The original news release has been deleted but an archived version can be read here.
Senators, including John Kennedy, Ted Cruz and Cotton grilled Sung on her comments.
.@JohnKennedyLA asks Biden nominee Jennifer Sung if she stands by the letter she signed stating that Brett Kavanaugh is morally bankrupt:

"How can a litigant possibly think that you're not going to act on personal beliefs if you were so intemperate to say something like that?" pic.twitter.com/lXP5EENBH7

— Carrie Severino (@JCNSeverino) September 14, 2021
The letter also said "people will die if he is confirmed," a point that Senator Tom Cotton brought up in his questioning.
MORE: Seven Notre Dame librarians urged halt to Barrett confirmation
IMAGE: Jennifer Sung/CSPAN
Like The College Fix on Facebook / Follow us on Twitter