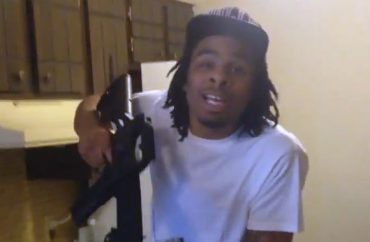 Fallout from the lynching hoax video
The radical organizers behind a planned protest against student-loan debt next week are stepping back after the event was met with farfetched threats of racial violence.
The May 2 Strike Committee at Southern Illinois University Carbondale vehemently denied that it was behind a YouTube video – apparently intended to frame a campus fraternity – that repeatedly used the N-word and threatened to lynch black students at the protest.
In a response to the YouTube video, a black Twitter user posted a video in which he brandishes guns and promises to shoot any perceived racist who threatens him at the Monday protest.
Both SIUC police and Carbondale law enforcement are investigating the Twitter video, the Daily Egyptian reported Wednesday.
Stop implying 'we produced that crap'
The May 2 Strike Committee, whose members remain anonymous, said in a blog post Monday it has officially disbanded in response to the racial turn its protest has taken.
"What happens on May 2 will be up to each of us and all of you, not a committee," it wrote. "See you Monday at 10 a.m. at the fountain in front of Faner Hall."
The committee savaged the SIUC administration for promoting the "conspiracy" that its members might be behind the racist video, particularly President Randy Dunn for "implying on-air" to the campus broadcast station "that we produced that crap."
"SIUC White is Right," now twice removed by YouTube, used the same visuals as a video that the May 2 Strike Committee said was made by one of its supporters to promote the protest. The audio track is modified, however.
Gun-laden 'PURGING' response video
In a video posted on Twitter Tuesday that only stayed up for a day, a gun-wielding black man is seen openly challenging the maker of the "SIUC White is Right" video.
"May 2 #SIUC WHITE PPL SAY DEY PURGING I WISH DEY WOULD IM PREPARED #RETWEET LETTEM KNO KIDDO AINT GOIN," the tweet read.
"I wish a mother fucker would slide on me talking about they're gonna hurt me May 2nd," the man says on the video. "I'll blow your shit back."
The user behind the Twitter account declined to identify himself to The College Fix on Thursday.
@Schierbecker @CollegeFix mr fuked your girl ?

— JAYELO & AJ GANG (@058_powermoves) April 28, 2016
"I'm not a killer so I don't care," the Twitter user told the Daily Egyptian Wednesday when asked about students fearful after seeing the gun-strewn video. "I'm not attacking no one, I'm not racist."
The user suggested that police had been in contact in a subsequent tweet.
GET OFF MY DICK DAMN POLICE ASS PEOPLE IM NOT RACIST I DNT CARE BOUT DAT PURGE SHIT JUST DNT COME TO ME ON DAT.. DEM GUNS WAS FAKE

— JAYELO & AJ GANG (@058_powermoves) April 28, 2016
@058_powermoves May 2 I'm @ yo shit if they purge this mf ??

— Lil Shug 2x (@lilshug_) April 26, 2016
"058_powermoves" is one of several users on social media who are anticipating a racial conflict on campus Monday.
"You want to try to attack me on campus? Let's go. Let's go," SIUC student Staccato L'ouverture said in a YouTube video. "I'm going to bring my bat too. [laughing] We're not taking that."
'White supremacy needs to be met with force'
Though an unidentified representative of the since-disbanded May 2 Strike Committee told The Fix that it's asking demonstrators to remain nonviolent on Monday – saying the protest is modeled after this year's Nuit debout protests in France – the spokesperson suggested violence was possible.
"[W]e sympathize with those who want to harm the makers of the video," the representative said in an email Thursday. "We are anti-racists and think that white supremacy needs to be met with force wherever it expresses its genocidal aspirations."
KFVS12 News & Weather Cape Girardeau, Carbondale, Poplar Bluff
Asked whether one of its own supporters could have made "SIUC White is Right" as a hoax to increase support for its movement, the representative said: "Anyone who makes such a video is our enemy, no matter what they call themselves." It is "much more plausible that a racist video would be made by actual racists."
The representative said the group was "deeply concerned about what May 2 has come to mean" following the racist video. "Our intention was to create a student strike that would resonate throughout the state, and perhaps throughout the country."
Like The College Fix on Facebook / Follow us on Twitter
IMAGES: Twitter screenshots