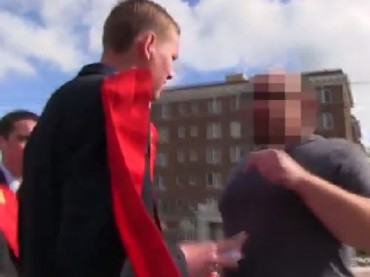 A small, peaceful rally in support of traditional marriage by Catholic students at Johns Hopkins University turned violent after an angry onlooker aggressively got in the young students' faces and broke one of their cameras, a video of the incident published Thursday shows.
The Oct. 23 rally was hosted by TFP Student Action, a conservative student Catholic advocacy group, as part of its "street campaign," in which its members travel to different locations to demonstrate in support of traditional marriage with signs such as "God's marriage ='s 1 man & 1 woman" and "honk for traditional marriage."
But the recent demonstration in front of Johns Hopkins University turned ugly when an unnamed assailant pushed a young volunteer then "turned against TFP member Matthew Miller, 20, and started throwing punches at his video camera," the group reports on its website, citing its video.
"As a result of the attack, the camera was severely damaged and its external microphone completely destroyed," the group adds.
In the two-minute video, the man – whose face was blurred in the edited video – says "we are going to beat the living shit out of you" as a student says "insults are not arguments, sir."
Then the man gets physical as students in the background begin to repeatedly chant "aggressor" and one student tells him: "Step away, step away, sir. We're here totally peacefully," the video shows.
"I'm not," the man replied.
John Ritchie, director of TFP Student Action, said the police are still investigating the incident.
"As far as I know, no arrest has been made," he said Friday in an email to The College Fix. "I'm hoping they find the attacker and that restitution is made for the damaged camera."
In the video, the man can be heard saying "don't disrespect that song." Asked for clarification, Ritchie noted: "Right before the attack, our bagpiper was playing Scotland the Brave … His complaint about 'disrespect' was nonsensical; it was a pretext. It was impossible to have a civil debate or an intelligent discussion with this fellow. He just started cursing and throwing punches."
TFP Student Action's visit at Johns Hopkins University on Oct. 23 was one stop among many during a week-long tour in support of traditional marriage held in three states: Pennsylvania, Maryland and Virginia, Ritchie said. None of the volunteers in the video are Johns Hopkins students. TFP Student Action visits university campuses on a regular basis not only to promote traditional marriage, but also pro-life causes and other issues.
Jennifer Kabbany is editor of The College Fix (@JenniferKabbany)
Like The College Fix on Facebook / Follow us on Twitter
IMAGE: YouTube screenshot