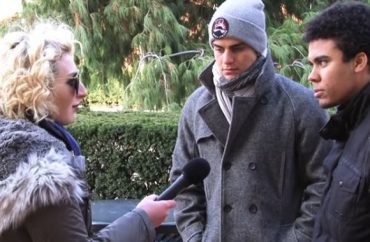 If a family wants to have their daughter's clitoris removed — who are we to judge? If a culture venerates such a practice, who are we to judge? If it's a personal choice, who are we to judge?
That's the vibe given off by students shown in a video released Tuesday by Pamela Geller's anti-Islam group the American Freedom Defense Initiative.
The video states that it asked 20 Columbia University students whether they would support Planned Parenthood funding for female circumcision. Only one student gave an unequivocal no, according to the group.
Many students in the video appeared to conflate the question as a matter of being pro-choice.
"Of course," said one male student. "It's up to whoever wants it."
The student was asked by defense initiative reporter Laura Loomer: "Regardless of their age?" "Oh, absolutely," he replied.
Loomer asked a female student what she would think if a family chooses this for their daughter.
"I mean, who am I to say no to what somebody wants to do in that sense," the student replied. "It's their body."
Said another student: "If it's what the family wants …"
According to the World Health Organization, female genital mutilation "has no health benefits for girls and women. Procedures can cause severe bleeding and problems urinating, and later cysts, infections, as well as complications in childbirth and increased risk of newborn deaths."
"More than 200 million girls and women alive today have been cut in 30 countries in Africa, the Middle East and Asia where FGM is concentrated," WHO adds. "FGM is mostly carried out on young girls between infancy and age 15. FGM is a violation of the human rights of girls and women."
The defense initiative, in their video, points out the practice is "an Islamic phenomenon, and is only found within, or adjacent to, Muslim countries."
Geller, in the video, equates the students' reaction with "support for jihad on campus."
She also said the video exposes the "ignorance among college students of the basic principles of our nation and our civilization."
Watch the video:
Like The College Fix on Facebook / Follow us on Twitter
Like The College Fix on Facebook / Follow us on Twitter