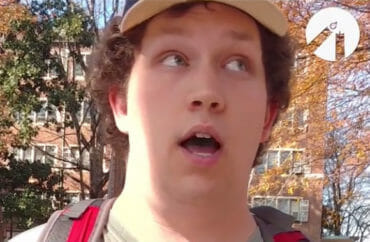 'It's no different than this tree'
A couple years ago we highlighted anecdotal evidence from campus pro-life activists that college students were increasingly comfortable with infanticide – all the way from so-called post-birth abortion to the killing of children a few years old.
Not everyone was convinced – even Students for Life of America disputed that it constituted a trend.
Now SFLA has published a new interview with an unnamed student at the University of Tennessee-Knoxville who says that infants up to two years old are fundamentally the same as … trees.
SFLA told The College Fix in an email that its Appalachian regional coordinator, Brenna Lewis, had been speaking with several students on the subject during a campus visit in early December.
While the male student on camera was not the only one to defend infanticide, according to the group, his arguments revealed how students can justify a practice that, on its face, runs contrary to social justice.
"I'll buy that," the student responds to Lewis when she mentions that previous students said the post-birth killing cutoff should be two years old:
The fact of the matter is without communication, we have no way of knowing if you're sentient or not. I mean, it's no different than this tree [looking up at tree]. It's alive, but is it sentient? I don't know. I cannot communicate with it.
After Lewis presses him on the tree analogy, he continues:
Can the two-year-old talk to me? Can the two-year-old talk to me? [Yes, he repeats himself.] In some instances I'm fairly certain that is. But generally speaking the child is still has [sic] the inability to communicate. And until we determine that as such – at what point does sentience become an issue – we can't really debate whether or not that is the situation or not.
MORE: More college students support post-birth abortion
SFLA President Kristan Hawkins said in a statement the interview "reflects the kinds of attitudes our staff members and students can face on a daily basis on high school and college campuses":
When countries such as Iceland normalize the deliberate killing of babies with Down syndrome or states like California want to normalize abortion drugs on campuses, we should not be surprised when students display a wanton disregard for human life.
A spokesperson for SFLA told The Fix in an email that the beginning of Lewis's talk with the student was "not on point" so it wasn't included in the video. "Other students have been talking with [Lewis] about infanticide, a few … [sic] it was not an infanticide rally or anything like that. And then she started to record."
The recording does in fact present "a complete, unedited thought" from the male student, the spokesperson said, without answering whether SFLA knew anything about the student's background, such as his major.
Such arguments about the moral value of human life are common in philosophy classes, and they are not out of place in elite academia.
Disability rights activists protested at Princeton University in 2015, calling for the resignation of its infamous bioethics professor, Peter Singer, for spreading "hate speech" (below).
Singer had argued that "killing a defective infant" is not the same as "killing a person," as part of a larger argument in favor of rationing healthcare under Obamacare. He believes that "personhood" should not be applied based on species but on cognitive ability – meaning older animals should have more legal rights than human infants.
MORE: Ethics professor: Kill severely disabled infants under Obamacare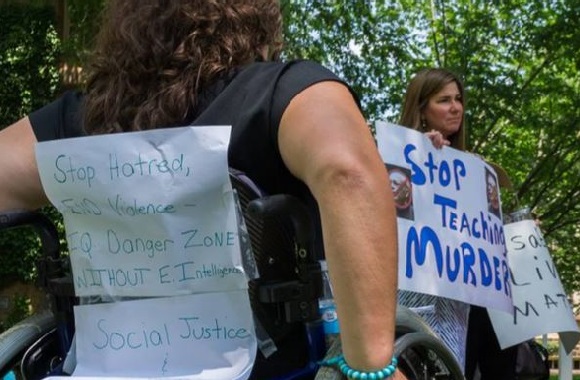 Last year Singer signed on to a statement by a prominent conservative colleague at Princeton that exhorts readers to "oppose efforts to silence those with whom we disagree—especially on college and university campuses." Singer's Skype lecture to a Canadian university club had been shouted down days earlier by another group of disability rights activists.
University of Chicago biologist Jerry Coyne is another infamous supporter of infanticide for "newborns who have horrible conditions or deformities, or are doomed to a life that cannot by any reasonable light afford happiness."
MORE: UChicago professor defends killing newborn babies
IMAGE: Students for Life of America
Like The College Fix on Facebook / Follow us on Twitter