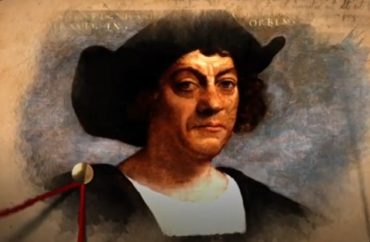 Neither Columbus Day nor Indigenous Peoples' Day are officially celebrated in Washington State, but a Whitman College professor of politics nonetheless honored the latter by discussing his school's role as an institution "on stolen land."
Over two days via Zoom at the end of last month, Stan Thayne's "Indigenous Politics" class featured student speakers discussing both holidays. According to the Whitman Wire, Columbus "continues to be celebrated as an American hero" even though he never actually set foot "on U.S. soil."
"In reality," Wire reporter Lily Yost writes, "Columbus enslaved Indigenous people throughout his travels and his role as an explorer led to a structural genocide of native tribes."
Thayne pooh poohs the fact that Italian-Americans consider Columbus a symbol of pride; he claims the reason there's a Columbus statue at the local courthouse isn't to represent that demographic, it's to represent "white America" and "genocide."
For Thayne, Columbus should be taken down and replaced with "something that represents the origins of Walla Walla [Washington] and commemorates the local tribes," such as a signatory of the "1855 treaty between the Confederation of Cayuse, Umatilla and Walla Walla Tribes" and the U.S.
ALERT: Check out our new Campus Cancel Culture Database!
Nell Falvey, one of the student panelists from the lecture, said the statue "glorifies colonialism and whiteness in a way that shouldn't be welcomed in Walla Walla."

In a conversation after the lectures, Falvey spoke about the irony of the statue in front of the court house. Christopher Columbus—a murderer, a slave owner and an eventual prisoner—stands tall on a pedestal in front of the town's judiciary structure.

"Who is justice working for?" said Falvey. …

The lectures questioned Whitman's role as a college established on land stolen from the Cayuse and Umatilla tribes of Walla Walla.

"What's the most appropriate way that we can be here on this land that was taken through coercion and violence?" Thayne said. "Just ignoring Columbus Day isn't enough."

After all, the college's name comes from Marcus Whitman, a Christian missionary who arrived to the area in 1836 and was killed in the Whitman massacre in 1847. Increased American settlement and a measles epidemic strained the relationship between the mission and the Cayuse before the massacre.
According to his faculty page, Thayne "contributes to theorizing Indigeneity through an ethnographic examination of religious identities in which the indigenous and the colonial become entangled in the formation of modern Indigenous subjectivities."
Cost of tuition per year at the small, private Whitman College is approximately $54,000.
MORE: Five times Columbus was cancelled on campus
IMAGE: BBC Reel / YouTube screencap
Like The College Fix on Facebook / Follow us on Twitter