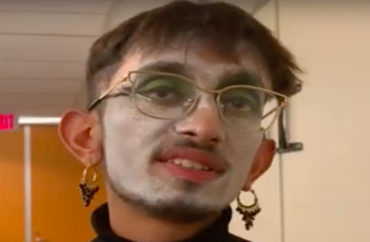 The small troupe of Yale performance artists who protested outside a professor's "Middle East Politics" class early this month is planning a new demonstration, this time against a law professor.
Senior Zulfiqar Mannan and his effort dubbed "Do You Trust Your Educator?" is now targeting Akhil Amar's "Constitutional Law" class due to the prof's alleged "alt-right interpretations of the U.S. Constitution" and support for now-US Supreme Court Justice Brett Kavanaugh.
According to the Yale Daily News, Mannan indicated "DYTYE" is currently on hiatus, and there is no specific date set for the Amar protest. However, he gave a "sneak-peak" as to what's in store via his Facebook page:
Despite his support for Kavanaugh, Amar had pledged not to write letters of recommendation for (Kavanaugh) clerkships in order "to skirt accusations against him of 'elite cronyism or back-scratching.'"
The YDN's report notes Mannan's demonstration at Emma Sky's class on November 5 "faced fierce backlash from students," with one student requesting an apology from him.
Early Wednesday on Facebook, Mannan took issue with the YDN's characterization of that apology:
I apologised to Emma Sky's class for "if the sounds from the hallway of Watson Center on 11/5 emulated for them triggers mirroring 'dangerous areas, war zones, areas exposed to gun/gang violence or arbitrary forced entry.'" The omission of the intent of the apology is funny and strategic to me. I was forced to submit this apology because my peer and Rhodes scholar, Marwan, refused to attend our HMRT seminar until I apologised for recreating war scenes. My apology indicated that no war scenes were created even if they were interpreted as such.
Mannan goes on to note that, in the YDN article, all the criticism of his protest "comes from white faculty members." He points out that although Professor Amar isn't white, that "isn't saying much."
In an email to faculty members associated with human rights research at the law school and fellow students in the Human Rights Program, professor James Silk — who is the director of the Law School's Orville H. Schell, Jr. Center for International Human Rights — clarified that he and Mannan's project advisor Paul Linden-Retek played no role in carrying out the protest against Sky. …

While we recognize and defend Zulfi's right to freedom of expression, neither we nor the Human Rights Program nor the capstone seminar have participated in the design of the protest or the protest and don't endorse it or its
message."

Silk added that Mannan's protest against Sky raised a number of concerns, including ethical ones. Silk and Linden-Retek brought them to the demonstrator's attention and urged Mannan to consider carefully and honestly the consequences of the actions, the email said.

"We should all be wary of putting ourselves in the position of judging others or, at least, wary of being confident that the consequences of our judgments and, particularly, making those judgments public or taking action based on them, are just," Silk said in the email. "If dialogue is the stated goal of a protest, it needs to offer more than accusation; it needs to provide assurance of genuine give and take, an openness to being affected by the dialogue, a refusal to pre-judge."
In his Facebook post, Mannan said he would not respond to the YDN piece "until [he] 'sits down' with Sky to discuss some allegations."
MORE: Yale performance artists protest prof's 'war crimes' in front of her class
IMAGE: YouTube / ydnmultimedia
Like The College Fix on Facebook / Follow us on Twitter