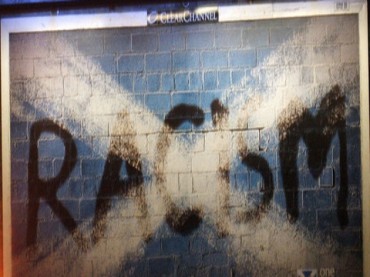 Distribution of yearbooks at Berkeley High School was halted "after reports of inappropriate language on one of its pages."
"Corrected" versions of the books will be given to the school's Academy of Medicine and Public Service (AMPS) seniors gratis.
What exactly was so offensive? The Daily Californian reports:
The text describes Berkley [sic] High's Academy of Medicine and Public Service, or AMPS — a college preparatory program — as "making our future doctors, dentists, nurses, physicians, fire chiefs and trash collators of tomorrow." A photo of the offending page was tweeted by the school's Black Student Union's Twitter account Wednesday.

In the email announcement, Berkeley High principal Kristin Glenchur called the phrase "offensive and racist" and said yearbook distribution will be halted until the language is removed.

"What occurred does not just affect the AMPS community, but has had a profound and hurtful impact on all of us," Glenchur said in the email.
Here's the pic of said photo:
Post racial? Really? pic.twitter.com/yXMNorSIlP

— Black Student Union (@BerkeleyBSU) June 3, 2015
I suppose what's offensive is the addition of "trash collators," which probably was meant to be "trash collectors."

The yearbook staff has assumed responsibility for the wording. Maybe one (or more) of its members was trying to be funny.

In addition, there's no mention of the yearbook staff's race distribution. A Twitter comment on the Black Student Union photo says the school is "predominately people of color."

Lastly, and maybe it's me, but if I were the principal I'd be a lot more upset at the dreadful spelling and grammar in that academy's description.

Like The College Fix on Facebook / Follow us on Twitter

IMAGE: Gregor Maclennan/Flickr