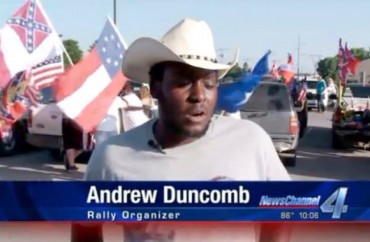 UPDATED
Call it Southern pride, but don't call it racism.
That's the message that self-proclaimed "Black Rebel" Andrew Duncomb, a 20-year-old black man, is bringing with the Confederate flag protests he's leading around Oklahoma.
The Oklahoma Daily reports that Duncomb's group, which met a few times before its protest of President Barack Obama in Oklahoma City this week, is taking the show on the road elsewhere in the state and Texas:
"The protest wasn't against Obama himself, the protest was to say it's not right to remove all of those Confederate flag memorials," Duncomb said. "People got mad that we're protesting with the Confederate flag, but how I see it — it's better than going out and burning down the city, ruining the city, just to get heard." …

While the Confederate flag is widely seen as a symbol of racism, Duncomb said that the group of protesters sees the flag as a symbol of southern pride and heritage. He said the group protests to promote unity.

"We have to respect each other because we're a part of something bigger than ourselves, and that's humanity," Duncomb said. "We're trying to show that there is a huge number of people who fly that flag and believe that it has nothing to do with racism."
Duncomb refused to help promote a Confederate flag rally at the University of Oklahoma, though, because of the racist chants that surfaced among frat members at that school earlier this year: Protesting there "looks malicious, it looks stupid."
Read the story and Duncomb's Facebook page, which includes some racial barbs directed against him.
UPDATE: As of Saturday morning, Andrew Duncomb's Facebook page "isn't available," according to a notice that says the page "may have been removed." (Here's a cached version as of Friday.) While Duncomb maintains a Twitter feed, it still lists his original Facebook page and makes no mention of removing the page himself, setting it to private or Facebook taking it down. A Duncomb supporter tweeted today that Facebook had removed the page, and told The Fix via Twitter that Duncomb "asked folks to messge FB to restore it via new page he put up." We've reached out to Duncomb on Twitter and Facebook's press team to confirm who took the page down.
Like The College Fix on Facebook / Follow us on Twitter
IMAGE: KFOR NewsChannel 4 screenshot