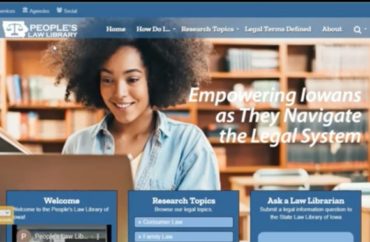 President Biden's $1.9 trillion COVID recovery package paid for the online library
The University of Iowa and the State Library of Iowa obtained a $600,000 grant from the American Rescue Plan Act, drawing on funds bookmarked for COVID relief, to set up a virtual library website for Iowans seeking free legal assistance during and after the pandemic.
The stated purpose of the stimulus was to increase vaccination, stimulate the economy and "support communities [and state and local governments] that are struggling" due to COVID, according to a White House fact-sheet.
The College Fix asked Carissa Vogel, director & professor of instruction at the University of Iowa Law Library and co-creator of the People's Law Library, how the funds allocated to the project will stimulate the economy or fight COVID and whether there has been any concern regarding using pandemic relief funds to build an online library.
"During the pandemic, it was challenging for people to come in to libraries and receive information on pressing issues, like evictions," Vogel told The Fix via email on December 6.
"From what I understand from the State Library, the funding was allocated to public libraries to make library services and information available to help people when libraries were not accessible," Vogel said.
"Having a basic, easy-to-understand resource to make information accessible no matter what they knew, where they were, or when they have time to seek help were key benefits," she said.
"Making services accessible outside of regular business hours, even after the pandemic, was also seen as a benefit," Vogel said.
The Fix emailed the university to ask how the funds allocated for the library contributed to pandemic relief, but no response has been received.
The library first went live in October, according to The Daily Iowan. 
The creators "are waiting for the three-month mark to release any official data on site interaction and community feedback so they can collect more data," the campus newspaper reported.
According to the library  website, the State Library of Iowa requested in 2021 grant funding through the ARPA bookmarked for initiatives to "assist libraries with ongoing challenges in connecting with patrons and making their resources more widely available online." The grant funding was allocated on September 30.
The website, produced by a partnership between the state library and the university library, provides information on consumer legal issues, such as buying a home and identity protection; family law, including child support and marriage regulations; and the laws governing agreements between tenants and landlords, according to the website.
It also defines legal terms and guides users in finding a lawyer and submitting legal questions to the State Law Library of Iowa, according to the site.
The stimulus package has cost $1.9 trillion and is one of the most expensive economic rescue packages in U.S. history, according to a September 2022 article in Investopedia.
MORE: California university's 'anti-racist' library collection built with COVID relief funds
IMAGE: People's Law Library
Like The College Fix on Facebook / Follow us on Twitter