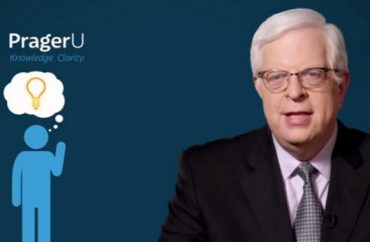 Nearly 65,000 people have signed a petition in the span of a week calling on YouTube to unblock educational videos put on the site by the conservative nonprofit Prager University.
The videos that have been blacklisted represent 10 percent of the PragerU collection and tackle subjects such as race relations, terrorism and higher education. YouTube categorized them into "restricted mode," meant for inappropriate and objectionable adult and sexual content.
In an emailed statement to The College Fix, a Google representative (YouTube is owned by Google) stated that "we haven't age-restricted any of the videos" although "people who have chosen to enable the Restricted Mode setting on YouTube may not see these videos. While educational, the videos are about sensitive topics such as rape and terrorism which may not be suitable for all audiences."
In a statement to The College Fix, Dennis Prager, a nationally syndicated talk show host and co-founder of PragerU, said that "if people wish to understand what is going on with YouTube restricting Prager University videos that have absolutely no violence nor the slightest sexual content, they should read Jonah Goldberg's classic work, 'Liberal Fascism.'"
"The combination of an ever growing state and gigantic businesses and universities run by people with left-wing values has already rendered America less free than it has ever been," Prager added. "For those of us old enough to remember when 'It's a free country' was a cliche, this is sad beyond words."
PragerU videos run roughly five minutes each, and feature a wide variety of conservative scholars explaining American values in a purely educational format. According to PragerU's website, the videos focus on "the concepts of freedom of speech, a free press, free markets and a strong military to protect and project those values."
The videos also include "graphics and animation to create the most persuasive, entertaining, and educational case possible for the values that have made America and the West the source of so much liberty and wealth."
PragerU announced on Oct. 11 that despite their best attempts to negotiate behind the scenes with YouTube, they had "no option but to go public" to protest the blacklisting of their videos.
On the official petition, which has gathered nearly 65,000 signatures, organizers explain that "many families enable restricted mode in order to keep inappropriate and objectionable adult and sexual content away from their children–not to prevent them from watching animated, age-appropriate, educational videos."
Jared Sichel, a spokesman for PragerU, told The College Fix that the response to their petition shows how livid people are over YouTube's decision.
"The response has been incredible," he said. "People are furious that YouTube–which purports to be an open platform that values the free exchange of ideas–has restricted so many of our videos."
He added there is double standard at play. For example, Vox's YouTube channel puts out videos on many similar themes that PragerU tackles.
"The question now is whether YouTube will care that so many people object to the disparate impact of its supposedly politics-free video filtering system," Sichel said.
When The College Fix first reported this story last week, 21 PragerU videos had been put into restricted mode. However on Tuesday some of those were returned to unrestricted mode by YouTube for unknown reasons.
16 currently restricted:
Are the Police Racist?
Why Don't Feminists Fight for Muslim Women?
Why Did America Fight the Korean War?
Who's More Pro-Choice: Europe or America?
What ISIS wants
Islamic Terror: What Muslim Americans Can Do
Did Bush Lie About Iraq?
Who NOT to Vote For
Israel: The World's Most Moral Army
Radical Islam: The Most Dangerous Ideology
The Most Important Question About Abortion
Why Do People Become Islamic Extremists?
What is the University Diversity Scam?
He Wants You
Israel's Legal Founding
Pakistan: Can Sharia and Freedom Coexist?
Have recently become unrestricted:
Why Are There Still Palestinian Refugees?
Are 1 in 5 Women Raped at College?
Is America Racist?
Don't Judge Blacks Differently
Commandment 6: Do Not Murder
Like The College Fix on Facebook / Follow us on Twitter