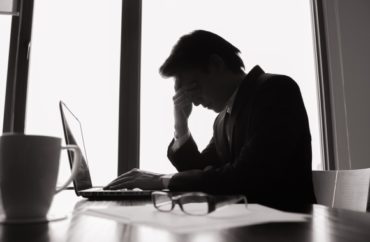 One professor calls results 'alarming'
A recent survey found that 74 percent of college students say they would report on their professor for saying something they find offensive.
Students surveyed support reporting professors who state opinions or facts on controversial topics such as affirmative action, police shootings, guns, gender issues or vaccines, according to the survey results.
The results are from the Institute for Global Innovation and Growth's annual "American College Student Freedom, Progress and Flourishing Survey."
The survey was conducted May 11 through June 2 through the online polling company College Pulse, which questioned 2,250 undergrads enrolled at 131 different four-year colleges and universities from across the nation.
As part of the survey the students were asked: "If a professor says something that students find offensive, should that professor (or class instructor) be reported to the university?" Seventy-four percent said yes, and the rest said no.
When those results are broken down by ideology, a different pattern emerged.
"There are large and statistically significant differences among students with different political ideologies on whether professors who say something that students deem offensive should be reported to the university: 81 percent of liberal students think professors should be reported to the university for saying something deemed offensive compared to 53 percent of conservative students who think so," the institute reported.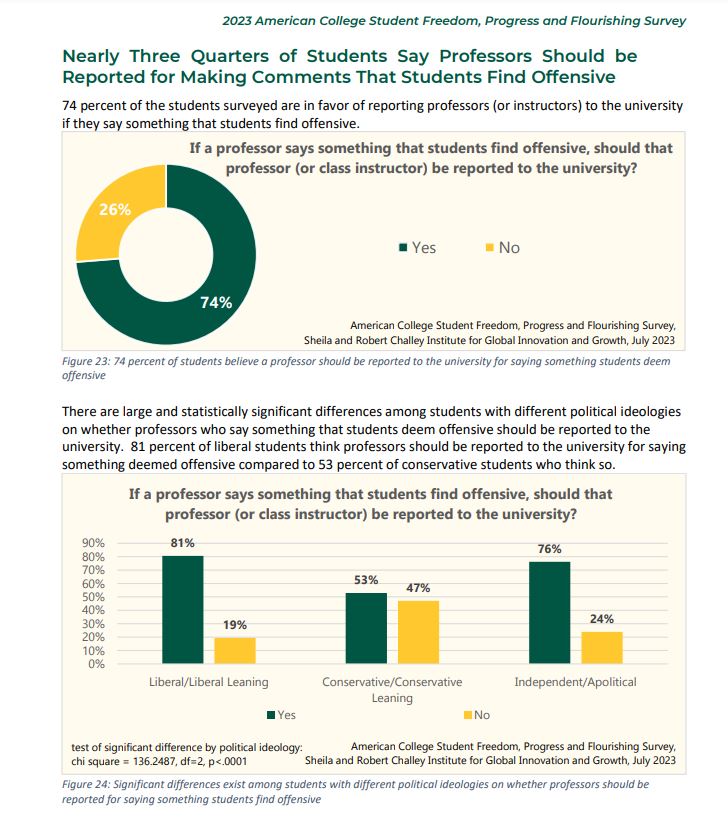 The institute added that it attempted to identify whether students are in favor of reporting professors for stating things that students disagree with, or whether they are only in favor of reporting professors for things like racial slurs, sexual harassment and personal attacks.
To that end, to students who answered that, yes, they would report a professor who says something offensive, the survey presented them with a series of topics; 7 percent to 40 percent said they would report their professors for the following statements:
"It is clear that Affirmative Action is doing more harm than good, and should be eliminated."
"If you look at the data, there is no evidence of anti-black bias in police shootings."
"Owning a gun is the right of every U.S. citizen."
"Biological sex is a scientific fact. There are two sexes, male and female."
"Requiring vaccination for COVID is an assault on individual freedom."
"Those who want to eliminate Affirmative Action are perpetuating white privilege."
"It is clear that we have a problem with racist police in the U.S. shooting unarmed black men."
"A civilized society doesn't need guns."
"There are a wide variety of sexes. Sex is not binary."
"Not getting vaccinated for COVID is irresponsible and inconsiderate to others."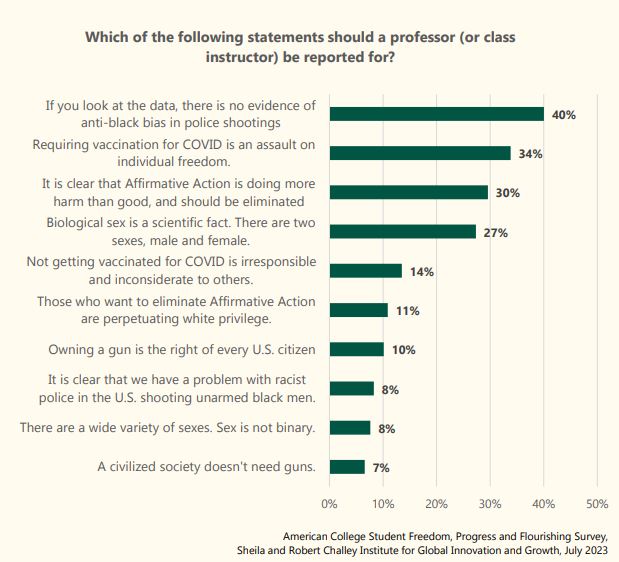 When broken down by ideology, "liberal students are more likely to be in favor of reporting professors for more conservative leaning statements in comparison to reporting them for more liberal leaning statements. Although conservative students are less likely to be in favor of reporting professors on most issues, their likelihood of being in favor of reporting relative to liberal students is higher for more liberal leaning statements," according to the institute.
MORE: The College Fix investigates bias response teams
When it comes to students telling on students, 58 percent said they are in favor of reporting students who say something that other students find offensive, the survey found.
Published Wednesday, other key findings from the survey are:
Only 41 percent of students believe the U.S. has improved over the last 50 years.
Among students who believe the U.S. has declined, 53 percent attribute this to a lack of government programs.
Less than a quarter of students have a favorable view of capitalism.
More students have a favorable view of socialism than an unfavorable view.
The survey also found that 16 percent of students said their classes and other activities during college gave them a more positive view of the U.S., while 37 percent said they have given them a more negative view of the country.
Of the 2,250 undergrads questioned, 63 percent were female and 27 percent male, with the rest listed as "other/non-identified." Forty percent of the students are white, 24 percent are Asian, 13 percent are Latino, 8 percent are black, 5.5 percent are two or more races, 2 percent are Middle Eastern, 1 percent are Native American, and the rest preferred not to say.
"Concerning political ideology, 58 percent report being slightly, somewhat, or very liberal; 20 percent report being slightly, somewhat, or very conservative; and 22 percent report being neither liberal nor conservative (independent) or not having thought much about politics (apolitical)," the survey results state.
Inside Higher Ed reported that "Although the survey questions were written and analyzed by … a conservative-leaning interdisciplinary institute housed in North Dakota State's College of Business—the poll was conducted by an independent survey group, College Pulse, in May and June. Its margin of error was plus or minus 2.4 percentage points."
North Dakota State University business Professor John Bitzan, author of the report, told Inside Higher Ed the survey findings are troubling.
"Of any place, a university should be a place that is open to a variety of points of view, and traditionally the universities have been," said Bitzan, who is also director of the institute. "To me, it's alarming that students are saying, 'You can't have an opinion on something that differs from the correct or appropriate opinion without being reported to the university.'"
MORE: College seniors have confidence in themselves — not in America, survey finds
IMAGE: Kiefer Pix / Shutterstock
Like The College Fix on Facebook / Follow us on Twitter