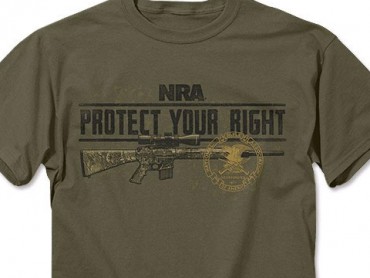 Update on this story from two years ago about a student who faced criminal charges in an altercation stemming from his National Rifle Association t-shirt:
Jared Marcum's mother has filed a lawsuit against the Logan County (West Virginia) Board of Education and several middle-school officials over their actions toward her son in April 2013, the Student Press Law Center reports.
The boy, then 14, was ordered to turn his shirt inside out because it displayed "the NRA logo and a hunting rifle that said 'PROTECT YOUR RIGHT'" – allegedly violations of the school dress code. School officials called the police, and when Jared tried to tell his side over the din of the officials in the room, "police charged him with obstructing an officer," the suit says.
Though the criminal charge was dropped from his record nearly two years ago, his one-day suspension is still on it – allegedly "because of his 'inappropriate behavior with educators in authority,' not because of his T-shirt," SPLC says.
The First Amendment claim appears to be solid under the school's own policies:
According to the complaint, Marcum's shirt complied with the school's student/parent handbook, which prohibited clothing that displayed profanity, violence, discriminatory messages or sexually suggestive phrases. The policy also banned clothing that advertised alcohol, tobacco or drug products.

"Unless it says 'bring this gun and kill somebody,' then that I think would fall under the language, but it's a Second Amendment 'protect your rights' [message] and it shows a hunting rifle," [Marcus attorney Benjamin] White said. "I can't imagine anybody believing this particular shirt would be against that policy."
Read the story and the lawsuit.
Like The College Fix on Facebook / Follow us on Twitter
IMAGE: National Rifle Association