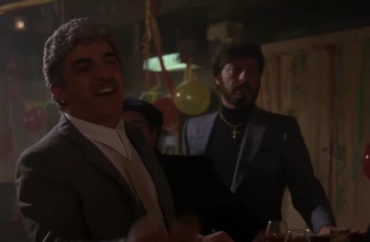 There's a famous line in the classic movie Goodfellas in which narrator Henry Hill – using "fruity" language, as they say on TV – explains how everyone in organized crime gets paid.
"The guy's gotta come up with Paulie's money every week, no matter what. Business bad? F— you, pay me. Oh, you had a fire? F— you, pay me. Place got hit by lightning, huh? F— you, pay me."
Turns out, gangsters have nothing on college administrators.
As students gasp for relief from exorbitant tuition bills, colleges and the federal government have set up a system that guarantees everyone gets their cut except the students. While schools feign concern about college "affordability," tuitions keep rising, prompting more students to take out more loans from the federal government, which then allows schools to jack up tuition even more.
Notice that concern about college "affordability" never means "keeping tuition down," or "hiring fewer administrators." It means everyone gets their palms greased except for the students who, forced to take out more in loans than they can afford, are left with a lifetime of debt for a degree that – given how many more young people are being convinced college is necessary – may be almost worthless.
Left with $200,000 in loans for a degree that helps you get a job that pays $40,000 a year? F— you, pay me.
An extensive investigative piece by the Wall Street Journal this week explains why Congress is loath to fix what everyone can see is a staggering problem.
For one, the feds make millions of dollars on the loans they give out to students. The more they shell out to college kids, the more money Congress has to spend. According to an Urban Institute scholar quoted by the WSJ, eliminating the "Parent Plus" loan program would cost the government $1 billion to $3.6 billion a year. (Traditionally, federal loan programs had a cap on how much borrowers could receive – the "Plus" family of loans have no such limits.)
For politicians, capping loans makes it look like they are denying their constituents free money. Would you want to be the congressperson who tells high school students that they can't go to Yale or Dartmouth because suddenly the government is interested in balancing the books? As Congress argues for trillions of dollars in runaway spending post-COVID, would you want to pare back a program that affects real people in your district?
And, of course, the universities are averse to any changes in the system because the more money the government pumps into loans, the more colleges can spend on things like new buildings and diversity counselors. (Just this week American Enterprise Institute scholar Mark J. Perry found that Ohio State University now has 132 diversity employees at an average salary of $77,000, costing the school $13.4 million per year.)
This is effectively an indirect subsidy, where the government funds college budgets not through direct payments, but by using students to haul bags of money to campus for them. This is especially pernicious given that students take out federal loans to pay for both private and public schools – so even the richest schools like Harvard and Yale benefit on the backs of their students.
To make matters worse, the boot of student loans often lands on the necks of those who are worse off. Lower income students need loans more than those who come from wealthy families, and often, government loans charge high interest rates. Currently, Plus loans charge 6.28%, higher than other federal loans that are capped.
Everyone knows this is happening, but like the crime families that ran roughshod over big cities throughout the 20th century, nobody appears willing to take the higher education syndicate on. Instead, universities get to bully students into paying more and more, telling them, in the words of Goodfellas' Billy Batts, to go get their shinebox.
ALERT: Check out our new Campus Cancel Culture Database!
IMAGE: YouTube
Like The College Fix on Facebook / Follow us on Twitter