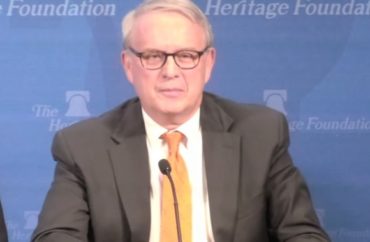 Attorney: 'Public universities have no business demoting or firing professors simply because they hold a different view than their colleagues'
Professor Allan Josephson was hired by the University of Louisville in 2003 to lead its "struggling" Division of Child and Adolescent Psychiatry and Psychology.
That according to a lawsuit the scholar and psychiatrist recently filed against his former employer, this after he worked there for nearly 15 years, turned the division around, and built a program that "now has a national reputation."
"He provided such superlative leadership that his supervisor … awarded him perfect marks in his 2014, 2015, and 2016 annual reviews," the suit states.
So why did the university fire him in February 2019?
According to his lawsuit, it's because some of his peers were upset that Dr. Josephson openly dissents from the transgrander orthodoxy that says gender dysphoria should be embraced, encouraged, accepted and treated as a normal and healthy by the medical community.
The Alliance Defending Freedom is representing Josephson in his suit against several University of Louisville officials. It claims he was fired for sharing his views — during his personal time — on gender dysphoria at a Heritage Foundation event in 2017 as well as an expert witness in court cases.
The lawsuit alleges the trouble began once his peers learned of his views, and in particular colleagues running the campus LGBT center. They were upset over his departure from the narrative that all young children showing signs of gender dysphoria should be helped by the medical community to transition. The doctor's concerned peers co-opted at least one member of his department to agree his views are problematic, and eventually helped get him demoted, then terminated, the lawsuit claims.
On Feb. 25, Josephson went in for his annual review meeting just to be told that the university would not be renewing his contract, which expires June 30.
University of Louisville spokesman John Karman told The College Fix officials have no comment on the litigation at this time. "The university typically does not comment on pending litigation, and I'm not able to comment on personnel matters that are part of active litigation," he said.
The lawsuit describes some of Josephson's views that he expressed during the Heritage Foundation event. He said new transgender treatments neglect "the developmental needs of children and relies on ideas that are just not true."
He argued "the notion that gender identity should trump chromosomes, hormones, internal reproductive organs, external genitalia, and secondary sex characteristics when classifying individuals is counter to medical science," the suit states.
Moreover, "children persistently, insistently, and consistently demand many things that are not good for them. A parent's role is to resist these demands when parental wisdom trumps children's limited life experience," according to the doctor's view.
"Transgender ideology neglects the child's need for developing coping and problem-solving skills necessary to meet developmental challenges," Josephson also argued.
One of his peers allegedly claims Josephson "has recently given speeches… in which he refutes the existence of transgender identity." The lawsuit states this is false, that Josephson has "never refuted the existence of gender dysphoria; he simply advocated a different method for treating individuals experiencing it."
The lawsuit alleges no one on campus should have been surprised to find out Josephson held these views. He has given "at least 29 invited lectures, at least 130 presentations to national or international groups, and at least 43 presentations to regional groups on issues related to child and adolescent psychiatry and the integration of psychiatry and spirituality, among others."
All of that and "over thirty-five years of service at three major state universities, Dr. Josephson was never the subject of any disciplinary action."
Josephson is suing the defendants for violating his First and Fourteenth Amendment rights. The lawsuit is demanding a "declaratory judgement" stating that the defendants violated his Constitutional rights, an injunction ordering the university renew his contract, restore his position as division chief, and to purge his personnel file of everything related to this matter.
It also seeks "nominal, compensatory, and punitive damages."
"Universities are supposed to be a marketplace of ideas, but the University of Louisville is turning itself into an assembly line of one thought," attorney Travis Barham with the Alliance Defending Freedom stated. "Dr. Josephson has had a long and distinguished career at the University of Louisville, leading and rebuilding its child psychiatry program. Public universities have no business demoting or firing professors simply because they hold a different view than their colleagues or the administration, but that's exactly what's happened here."
MORE: Mothers in shock as daughters come home from college with mustaches, breasts removed
IMAGE: YouTube screenshot
Like The College Fix on Facebook / Follow us on Twitter