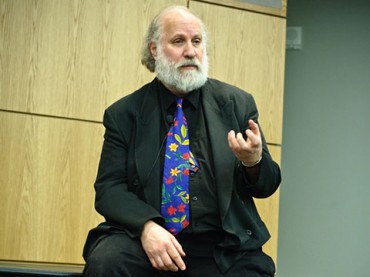 The American Association of University Professors is trying to walk a tightrope between scholars who want to cut all ties to Israeli academic institutions and a former AAUP president who said the University of Illinois at Urbana-Champaign was right to revoke a job offer to a virulently anti-Israel professor.
The group released a formal statement last week after professor Steven Salaita's job offer to UI was rescinded, apparently because of his anti-Israel tweets, saying there was "good reason to fear" that Salaita's academic freedom had been "violated." It also mentioned former AAUP President Cary Nelson, a UI professor who would have been Salaita's colleague.
Nelson had said Salaita's pro-Israel students could not trust that he would grade them fairly because of tweets including "If you're defending Israel right now you're an awful human being," but AAUP distanced itself from Nelson:
We feel it necessary to comment on this case not only because it involves principles that AAUP has long defended, but also because Cary Nelson, a former president of the Association and a current member of our Committee A on Academic Freedom and Tenure, is quoted as approving the Illinois Chancellor's action. Professor Nelson is entitled to his opinions. Indeed, one of AAUP's great strengths is our ability to bring together many differing viewpoints and ideas, including about the meaning of academic freedom. However, we wish to make clear that Professor Nelson's comments do not reflect an official position of AAUP or of its Committee A.

While opinions differ among AAUP members on a wide range of issues, the AAUP is united in its commitment to defend academic freedom and the free exchange of ideas more broadly. On the basis of this commitment we have opposed efforts by some pro-Palestinian groups to endorse an "academic boycott" of Israel. This commitment has also led us to defend the rights of critics of Israel, including the right of faculty members such as Professor Salaita, to express their views without fear of retaliation, even where such views are expressed in a manner that others might find offensive or repugnant.
The AAUP went on to say that tweets "are largely extramural statements of personal views that should be protected by academic freedom" and that Salaita, a scholar of Palestine, did not intend his tweets as "scholarly statements but as expressions of personal viewpoint."
Read the full statement, signed by AAUP President Rudy Fichtenbaum and Henry Reichman, first vice-president and chair of AAUP's Committee A on Academic Freedom and Tenure, here.
Like The College Fix on Facebook / Follow us on Twitter
IMAGE: Don LaVange/Flickr